Biggio appreciative of Altuve's professionalism
Astros great 'pulling' for present star as he approaches his club-record 210 hits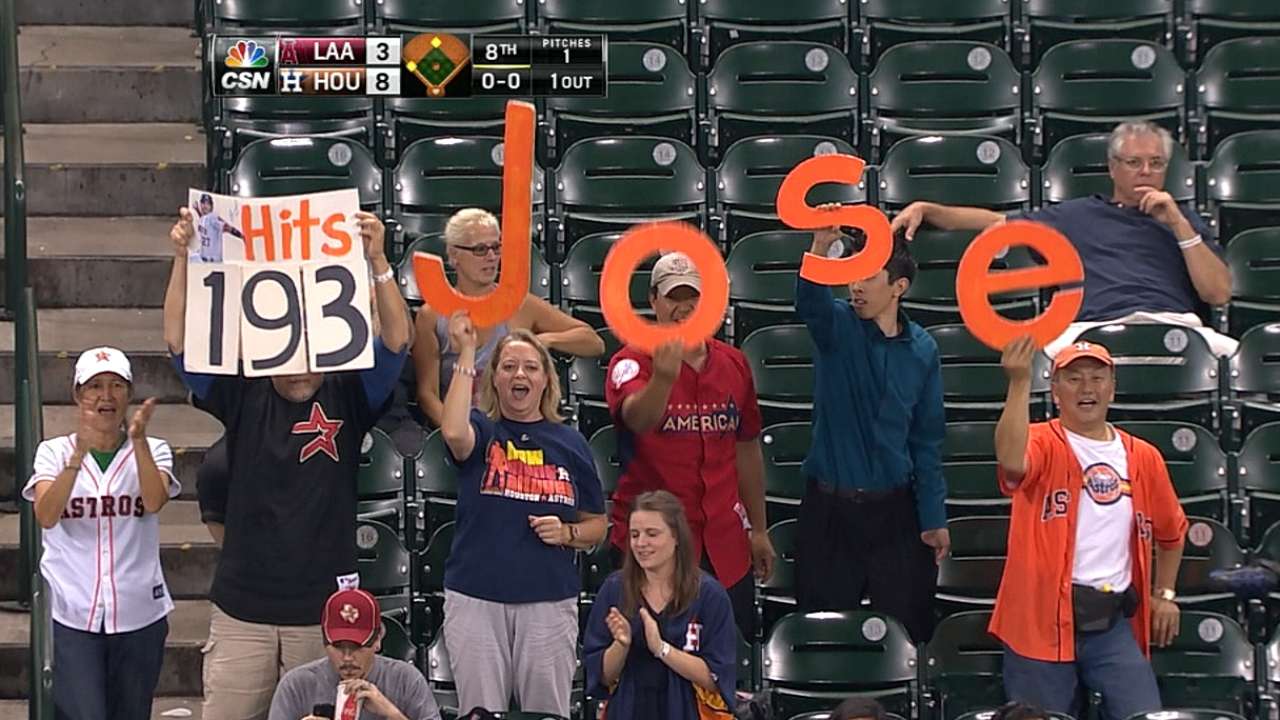 HOUSTON -- Craig Biggio remembers the first time he laid eyes on Astros second baseman Jose Altuve. He was roaming the back fields at Spring Training a few years ago -- a few hundred feet away from the Major League clubhouse and light years away from the Major Leagues -- when he saw a 5-foot-6 ball of energy manning second base.
"I just remember how he moved and how athletic he was and his energy level," Biggio said. "He loves the game, and it shows by the way he played the game. I think that's what I remember the most. He was a kid I met for the first time, and I was already a big fan and I was pulling for him."
Biggio is still pulling for Altuve, even at the expense of one of his club records. Altuve has 194 hits and needs 17 more in Houston's final 22 games to break Biggio's single-season club record of 210 hits, which he set during his phenomenal 1998 season. Altuve is six hits shy of joining Biggio as the only Astros players to reach 200 hits in a season.
And Biggio couldn't be happier for Altuve because of the way he carries himself, the way he plays the game and the way he respects his teammates and others around him.
"There's certain people you meet, and you like who they are and what they stand for and the way they go about their business, and he was one off the bat that I was a fan of," Biggio said. "Then you go, 'He's 5-foot-6, and hopefully this thing works out,' and it has. That's why I'm a big fan of his."
Altuve could break Biggio's record on Houston's upcoming nine-game road trip, which begins Friday in Oakland. In fact, he could wind up shattering it.
"If he's going to do it, that's great for him," Biggio said. "It's just a number, that's all it is at the end of the day. But I mean, it's a pretty big number, but if he's to do it, I'm happy for him."
Biggio, who's served as a special assistant to the general manager since he retired following the 2007 season, has a franchise-record 3,060 hits and 668 doubles, which is the most by any right-handed hitter in history. His '98 season came in the prime of his career when he was one of the most productive hitters in the game.
After reaching a then-career high with 191 hits in 1997, Biggio batted .325 with 210 hits, 51 doubles, 20 homers, 88 RBIs and 50 stolen bases in 1998, finishing fifth in the National League Most Valuable Player Award voting. He had 589 hits from 1997-99.
"That was an insane year, because it was 50-50 with 20 homers also," Biggio said. "You go to the yard every day, and you're enjoying what you're doing -- and when you have good at-bats, you're getting hits; when you have bad at-bats, you're getting hits. That's just kind of sometimes the way particular seasons go.
"I laughed when [Altuve] had four hits [Sunday] because he swung at the first pitch every single at-bat -- breaking ball, two-seamer in, slider away. He missed it one time, but every other one found a hole. When you're having one of these years, you enjoy the ride and take it for what it's worth."
Biggio is at the ballpark often in the summer and has a good rapport with Altuve. At the beginning of this season, Altuve asked Biggio for some tips on stealing third base. He leads the American League with 50 stolen bases, including 6-for-7 when attempting to steal third.
"You look at this numbers this year and he's got a ton of bags stealing third base," Biggio said. "He does ask questions and wants to learn, and the one thing he always does is he's very respectful. He always comes up and takes his batting glove off and shakes your hand and looks you in the eye. It's about respect, and he's all about that."
Perhaps the one thing that endears Altuve to Biggio more than anything else is his hustle. They're cut from the same cloth. They both rush down the line no matter how hard the ball was hit, no matter if it was March or September.
Altuve set out last winter to lose weight -- he lost 10 pounds -- so he could be a step faster and beat out more infield hits.
"The only thing you can control after you hit a ball is how hard you run, and if you're fast, you better run hard," Biggio said. "That's just about playing the game the right away. He's been able to parlay that into [31] infield hits. That's one thing that never goes into a slump is speed, and you have to make sure you utilize every single at-bat."
Altuve, 24, could threaten another Biggio record before his career is through. Through 492 career games, he has 599 hits. Biggio, en route to a club-record 3,060 hits, had 466 hits through 492 games and was older (26) at that point in his career than Altuve.
"Hey, you know what? Let's just have him enjoy what he's doing right now," Biggio said. "I think if you were to ask him, he'll tell you he'd much rather trade the year in he's having right now for the team to have more success. Let him enjoy what he's doing with the bat in his hand this year. If he's able to play 15 years, 20 years, that's great. But right now, let's enjoy it for himself, and we'll see how the rest of his career plays out from here on out."
Brian McTaggart is a reporter for MLB.com and writes an MLBlog, Tag's Lines. Follow @brianmctaggart on Twitter. This story was not subject to the approval of Major League Baseball or its clubs.