Springer's progress: Not much has changed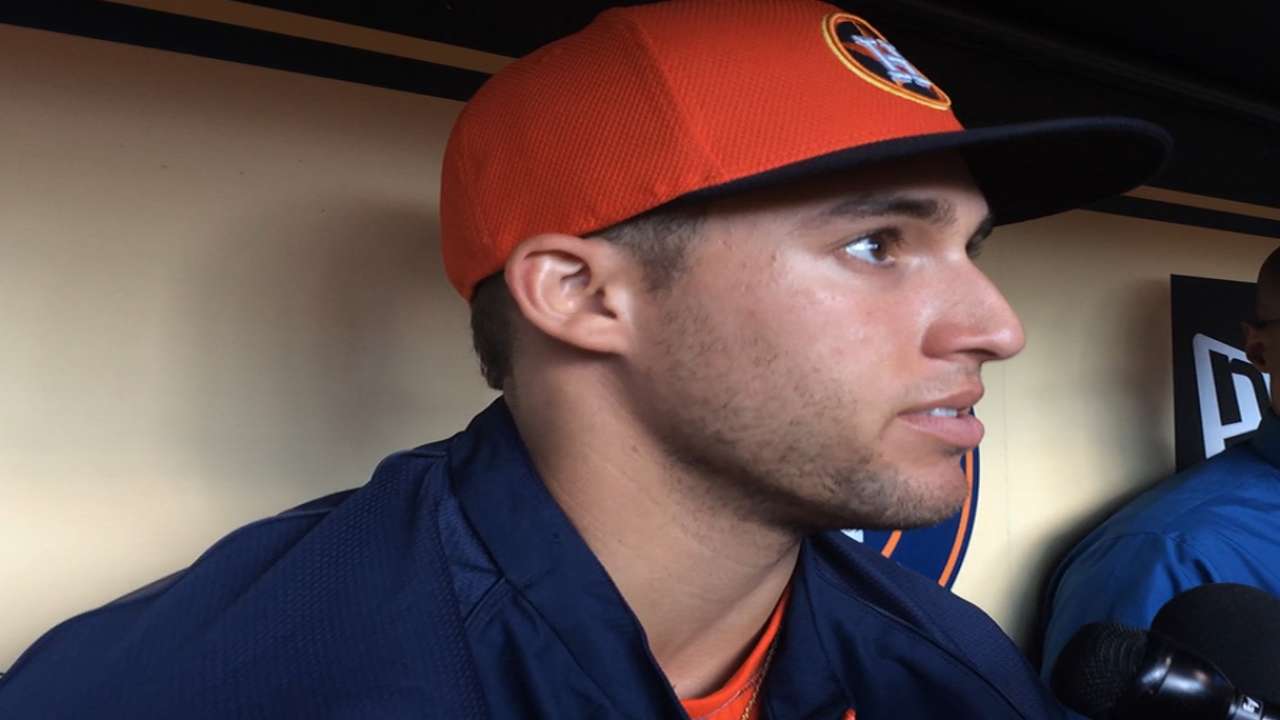 HOUSTON -- George Springer, the Astros' standout rookie right fielder, spoke to the media before Saturday night's game for the first time in two weeks.
Springer was placed on the disabled list July 23 with a quad injury and still doesn't know when he will return to the lineup. He has been frustrated by how long it has taken him to get back on the field.
In short, the progress report on Springer is: no progress.
"I'm rehabbing, taking BP, not much has changed," Springer said. "I'm not to the point [where I can run 100 percent]. I'm just doing what I've got to do."
It's been difficult to judge if Springer is getting any better.
What's next?
"I'm sticking to the plan and doing whatever they have me do," Springer said. "As of now, not much has changed."
Springer had been the Astros' most promising prospect for several years and he was finally promoted to Houston April 15. He hit .231 with 20 homers and 51 RBIs in 78 games before being injured.
"It's always hard to sit around," he said. "I want to be out there and play. You've got to trust [the medical staff]. We're doing everything we can. It's not fun. I want to be out there to help the team and compete. It's tough.
"You have to get healthy as fast as you can. But you can't rush an injury like this. You have to stick to [the rehab] and go slow. I don't think it's smart to play on an injury. You have a tendency to hurt it more. It takes time."
Former Houston manager Bo Porter had been preaching patience with Springer.
"He's just not ready to move forward with explosive activities," said Porter a couple of days before he was dismissed as manager. "He's not ready to take it to that next level. We're just not going to push him at this time. There is no timeline. We've tried to put a time line to it, and each time we do it doesn't come to fruition. Now we just go day to day and see how he progresses."
Is it possible that Springer could be done for the season?
"I think with a month to go in the season it would be premature to make that prediction today," Porter said. "We have a month, we'll continue to work with the trainer and if we can get over that hump, we'd love to have him back."
Gene Duffey is a contributor to MLB.com. This story was not subject to the approval of Major League Baseball or its clubs.