Porter advises slumping Singleton to watch Ortiz hit
Young Astros first baseman understands after seeing Red Sox slugger's huge game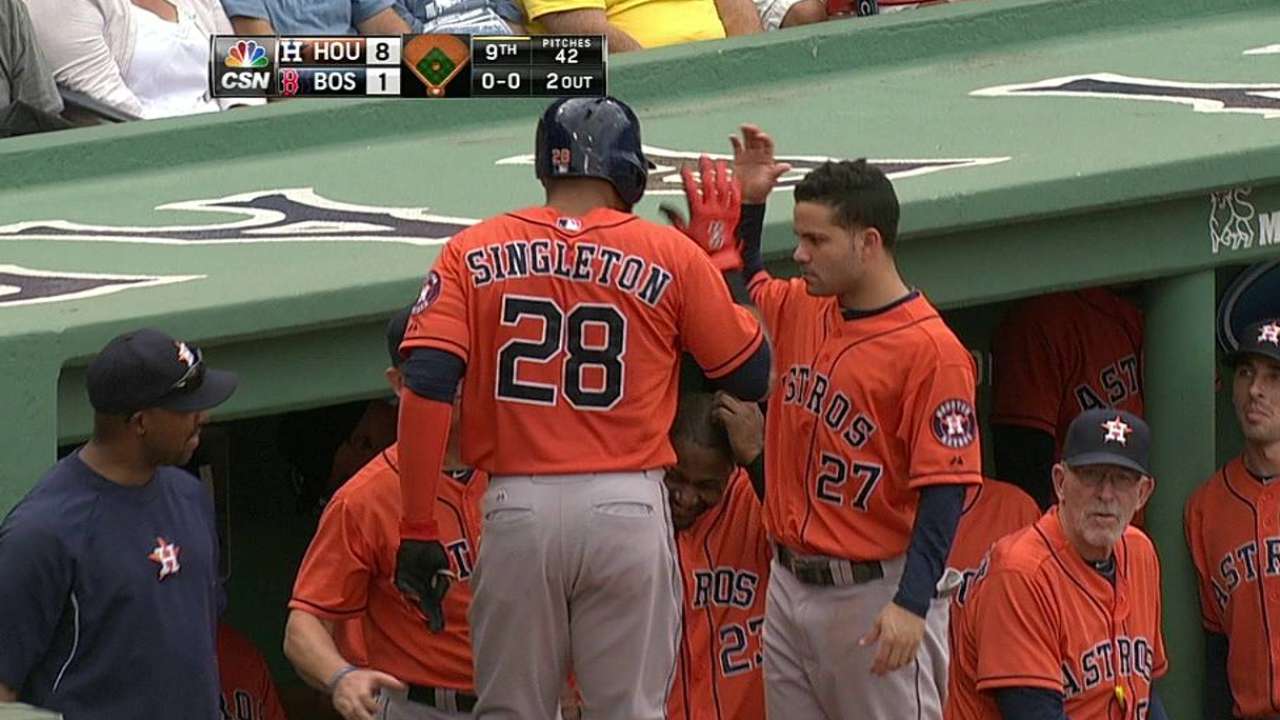 BOSTON -- Astros manager Bo Porter is always looking for ways to drop knowledge on his younger players, especially those who have star potential. That's why he had a chat with struggling rookie first baseman Jon Singleton before Saturday's game, using fellow left-handed hitter David Ortiz as an example of understanding how to hit.
Ortiz then went out and put on a show, hitting a pair of two-run homers and driving in a career-high-tying six runs in the Red Sox's 10-7 win over the Astros on Saturday. Porter, with a plate of food in his hand, passed Singleton sitting on a couch in the clubhouse Sunday morning and asked Singleton if he understood what he was talking about.
"He just shook his head and said, 'I see exactly what you're talking about,'" said Singleton, who hit a solo shot in Houston's 8-1 win Sunday afternoon.
Ortiz, of course, is likely headed to the Hall of Fame, while Singleton's career is just getting started. Singleton had only 65 games under his belt and was hitting .183 with 10 homers, 36 RBIs and 90 strikeouts in 229 at-bats entering Sunday.
Porter wanted the young slugger to understand that the homework Ortiz puts into the game, which in addition to his natural ability, hitting to all fields and in-game adjustments, has made him a star.
"That maturation takes time," Porter said. "When [Ortiz] first started his career, he wasn't the player that he is today. With some players, it clicks right away, but other guys have to experience some of the failure and play it back in their mind and go back and look at the video.
"What you're hoping is as they get into these situations more and more, the success in which they have will breed confidence, and the failure they experience, you hope it motivates them to understand that situation so the next time they find themselves in that situation, they feel better prepared."
Brian McTaggart is a reporter for MLB.com and writes an MLBlog, Tag's Lines. Follow @brianmctaggart on Twitter. This story was not subject to the approval of Major League Baseball or its clubs.