Marisnick shifts to right field with Fowler's return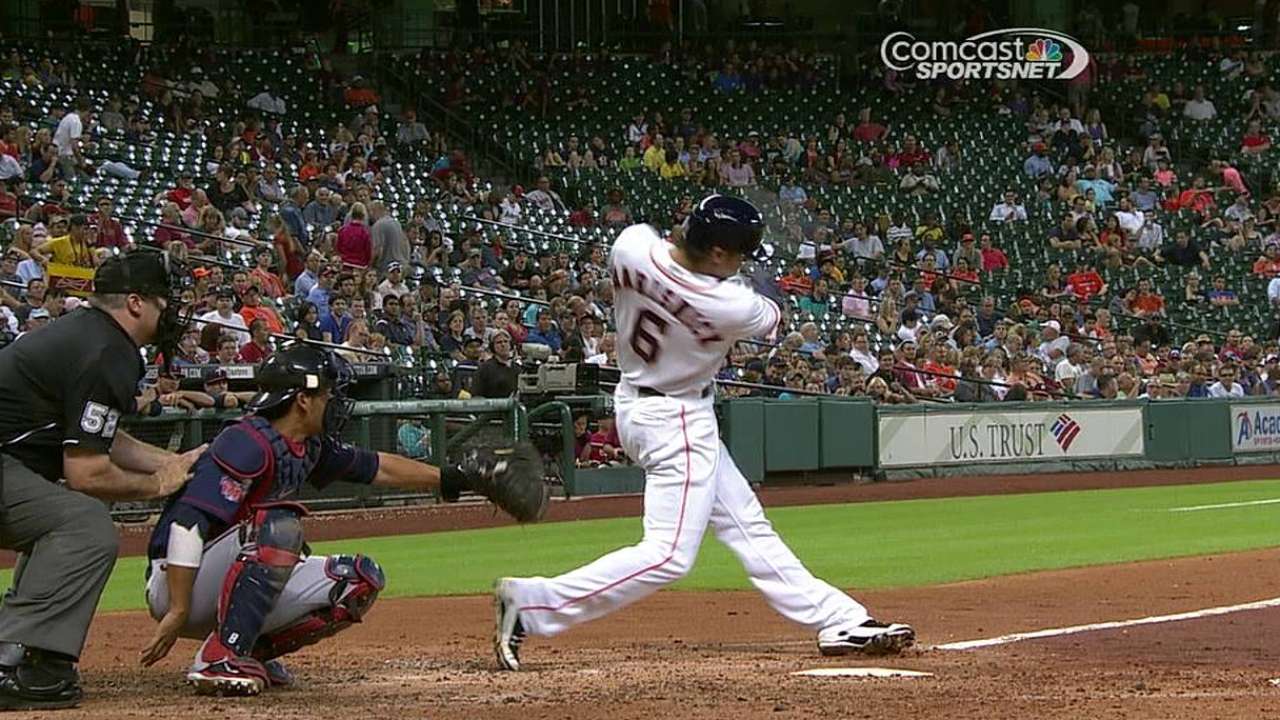 HOUSTON -- Jake Marisnick doesn't particularly care where you play him.
Given his hitting of late, he just wants to be in the lineup.
With Dexter Fowler's return from the disabled list, Marisnick slid over to right field after playing center for Houston since coming over from the Marlins in the Jarred Cosart trade.
"Anywhere out there, just get me on the field and I'll be pretty excited just being able to play," Marisnick said. "Whatever I'm asked to do, you just want to play."
There was little chance Marisnick would be left out of the lineup, considering he's collected 11 hits in his past five games, including a 4-for-4 night and his first homer as an Astro earlier in the series against the Twins.
The former third-round pick has also produced multi-hit games in five of his first 11 appearances with the Astros, while anchoring an outfield that was missing all three of its starters in Fowler, Alex Presley and George Springer.
Marisnick can certainly play all three outfield positions, but it might be a stretch to say he's used to playing right.
He played center field for 427 of his 450 Minor League games and has never played anywhere else in 65 Major League contests. He played 10 games in right over the course of five seasons in the Minors.
"I don't think there'll be anything different, he's a guy who's played all three," manager Bo Porter said. "Again, you're looking at improving your defense because you now have three guys that are playing in the outfield who are capable of playing center field."
Marisnick said he's shagged plenty of balls in right during warmups recently and the adjustments are relatively small.
"The way the ball comes off the bat looks a little different, and the positioning changes," he said. "Nothing I can't handle. It's mostly minor things here and there."
Fowler batted in the cleanup spot in the lineup Wednesday as he returned from an intercostal strain that held him out since late June. Before the six-week DL stint, Fowler hit .303 with three homers, six doubles and eight RBI in June.
Chris Abshire is a contributor to MLB.com. This story was not subject to the approval of Major League Baseball or its clubs.