Porter pleased to see Santana own up to mistake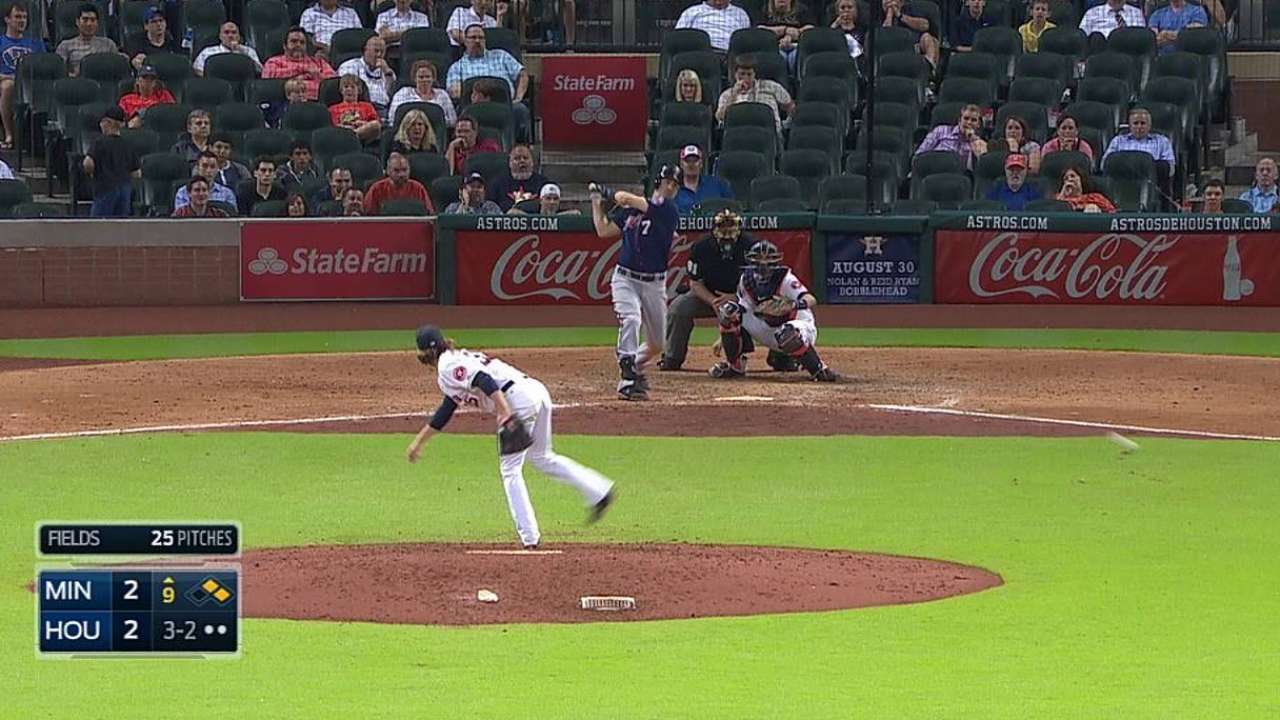 HOUSTON -- Astros rookie outfielder Domingo Santana's teammates and manager rushed to his defense Tuesday after he made an inexplicable mental mistake in the ninth inning of Monday's 4-2 loss to the Twins that led to a run.
Santana, who was optioned to Triple-A Oklahoma City after Tuesday's 10-4 win to open a roster spot for outfielder Dexter Fowler, went 0-for-4 with three strikeouts Monday. He was 0-for-17 with 14 strikeouts in his limited time in the Major Leagues. But it was his mental gaffe in field that stood out.
With Jordan Schafer at second base and Brian Dozier at first and two outs in a tie game, Joe Mauer shot a single to left field that scored Schafer easily. Santana held onto the ball as Dozier raced all the way home with the second run, saying later he "panicked."
"You turn on the TV and watch SportsCenter and I'm pretty sure he knows it's not something you should do on the baseball field," manager Bo Porter said. "Tarrick Brock, our outfield coach, talked to him and his teammates talked to him. I will be the fatherly figure that will put my arm around him and take care of his emotional side. It's obvious to everyone that's not something that should have happened. We will address it and let it be a teachable moment and move forward."
Astros second baseman Jose Altuve talked to Santana in the dugout moments after the play and tried to let him know mental mistakes are part of the game.
"He was a little worried," Altuve said. "But I told him that's happened before. We've all made mistakes before, so that won't be the last one you're going to make. Just go out and come back and play hard tomorrow."
Altuve admitted there was some confusion in terms of who should to take the relay throw at second because he was lined up in shallow right field during a defensive shift for Mauer, and shortstop Gregorio Petit had dived for the ball and was briefly out of position.
"He didn't have anybody to throw the ball to," Altuve said. "I wasn't on second base."
Porter said he appreciated the way Santana took ownership of the mistake.
"What I really like about it is the young man was flat-out honest," he said. "He said, 'I panicked.' For him to have the courage to stand there and say that, it speaks more value to me about his makeup. That's why you look at his struggles and believe he's going to come out on the other side of it. When you can stand up and admit it like he admitted [Monday] night, it's a huge step in the right direction in my book."
Brian McTaggart is a reporter for MLB.com and writes an MLBlog, Tag's Lines. Follow @brianmctaggart on Twitter. This story was not subject to the approval of Major League Baseball or its clubs.