Foltynewicz shows heat in Houston debut
Astros rookie pitcher earns high praise from his manager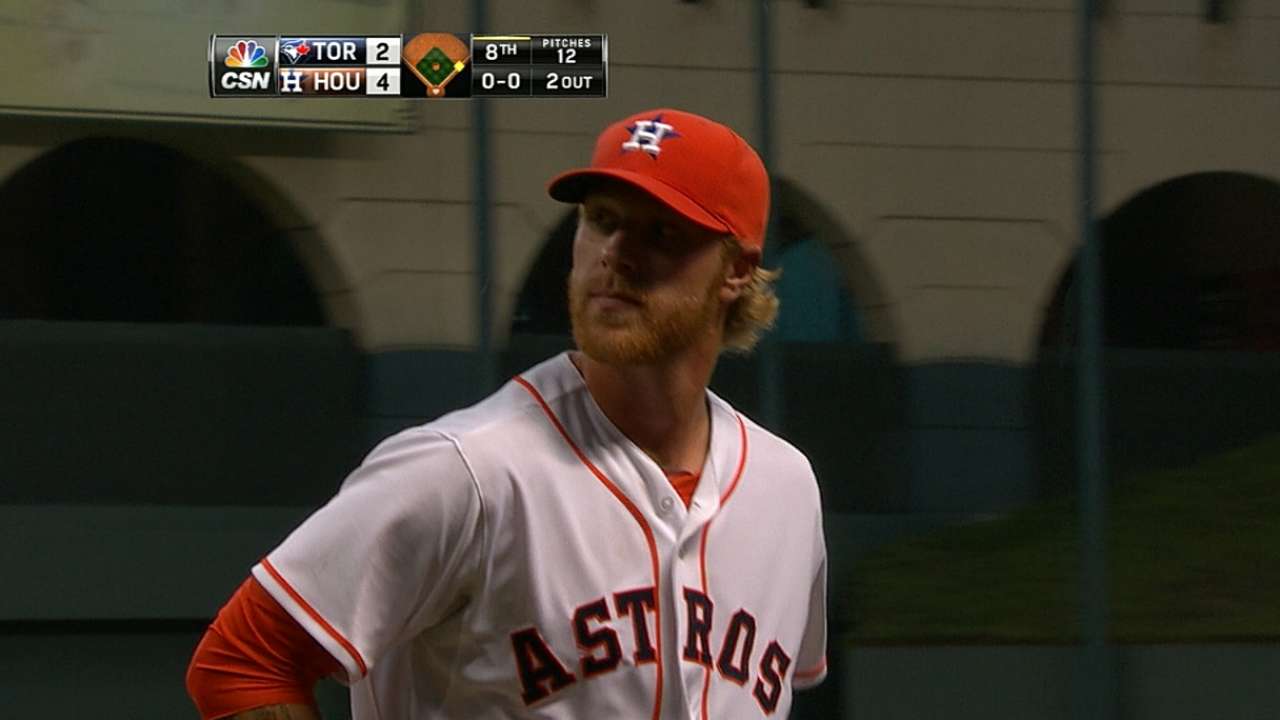 HOUSTON -- Mike Foltynewicz's second pitch in his Major League debut didn't go as planned. The ball never even reached the dirt, one-hopping from the grass to the catcher's mitt.
Given that his "heart was in [his] stomach" from the nerves, the much-touted prospect was just thankful it came during warmups prior to the eighth inning.
"I have no idea what happened," Foltynewicz said. "It went about 40 feet. I was definitely very nervous."
The hard-throwing right-hander made his first big league appearance in Saturday night's 8-2 win over the Blue Jays, recording two outs in the eighth with a 4-2 lead before walking a third batter.
The nerves didn't show once the hitters reached the box, as Foltynewicz induced a harmless popup in foul territory and recorded a strikeout.
He wasn't doing this against no names, either. The popup? That came against Melky Cabrera. As for the strikeout? Foltynewicz blew three fastballs past Jose Bautista.
"It hit me a little bit, with -- in my eyes -- one of the big-time guys for your debut," he said. "Just tried to go out there and attack them. To get a strikeout is pretty cool."
Foltynewicz threw 12 pitches, all of them fastballs. He reached 99 mph and only one of the dozen offerings was below 96 mph.
According to the rookie, he was just reaching peak velocity when he was yanked after a full-count walk.
"Oh yeah, the adrenaline was definitely kicking in there and I was getting my feet under me and getting the shakes out," Foltynewicz said.
Manager Bo Porter said it was an "impressive" start. But with a two-run lead and a green pitcher on the mound, he felt like he had to go get Foltynewicz.
"I went out to the mound and told him, 'Great job, you've done your part,'" Porter said.
Looking on from the stands as the youngster received a standing ovation on the way to the dugout were Foltynewicz's parents, who were stranded at an airport and missed his first day as a Major Leaguer on Friday after his promotion.
They were there for this one, and Foltynewicz felt it.
"It was really cool they made it," he said. "Really special, because they've been through everything for me. To have this moment finally come, it's one of the top moments in my life."
Though he was a starter through the Minor Leagues, Foltynewicz showed no issues out of the bullpen, where he may stay for much of this season. Porter saw nothing but positive signs from a big arm who could be the closer or setup man of the future in Houston.
"He made quality pitches the entire time," Porter said. "Good to let him get his feet wet. This guy's going to be pretty good."
Chris Abshire is a contributor to MLB.com. This story was not subject to the approval of Major League Baseball or its clubs.