Qualls celebrates 10-year anniversary of debut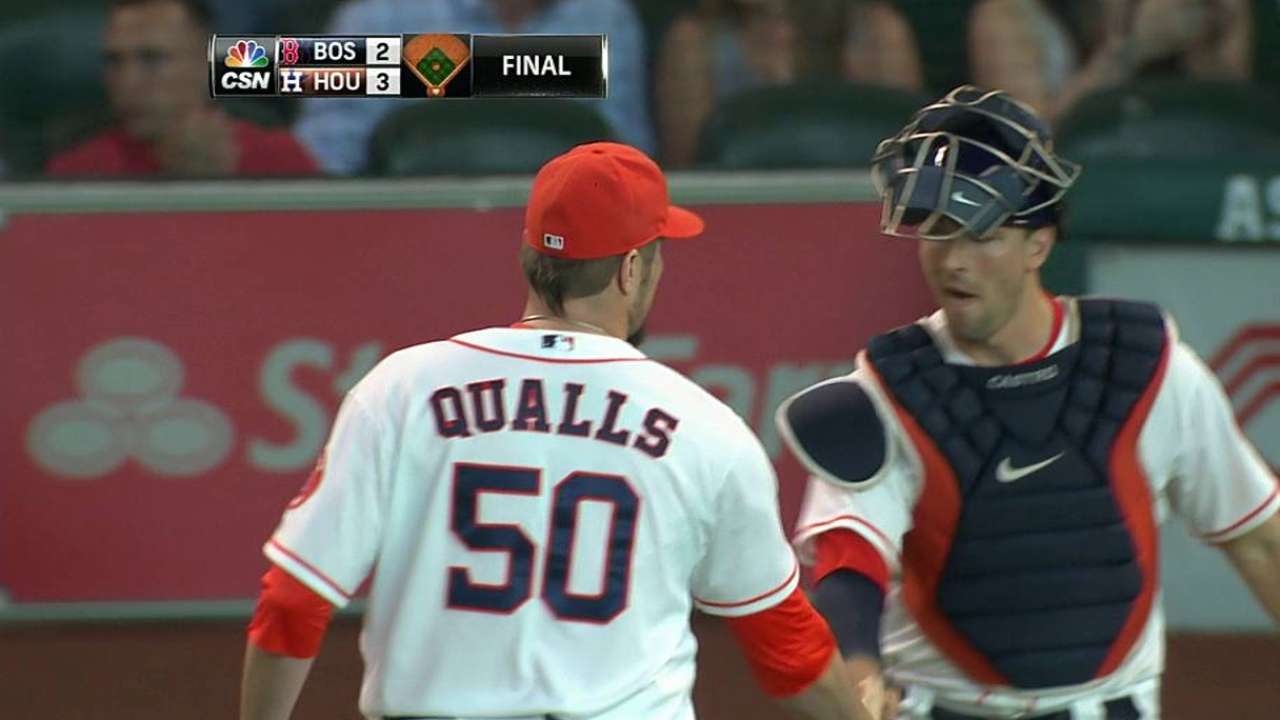 OAKLAND -- Tuesday marked the 10-year anniversary of the Major League debut of Astros reliever Chad Qualls, who pitched in his first game with Astros on July 22, 2004 -- about a month before the team caught fire and went 36-10 down stretch to win the National League Wild Card on the final day of the season.
Qualls made his debut in Arizona, pitching one inning in relief of Roy Oswalt in a 10-3 win over the D-backs. He allowed one run, one hit and walked Steve Finley on four pitches. Pitching coach Jim Hickey, who Qualls had as pitching coach in Triple-A New Orleans, had to come to the mound and settle him down.
"He came running out and told me, 'It's just like Triple-A. No big deal, just throw your strikes,'" Qualls said. "I was nervous as could be and obviously it was a special time in my life and I loved every minute of it. Here it is 10 years later. A lot of things have gone right, and I've been blessed to have been able to play this long. I don't anything for granted."
Qualls, who's having one of his best seasons in his return to Houston, has racked up 691 2/3 innings with nine teams in his 10-year career. He made his 700th career appearance on Saturday and his 300th with the Astros on Sunday, which ranks tied for sixth-most in franchise history.
When he was called up at 25 years old in 2004, he joined a team that was filled with stars, including Oswalt, Roger Clemens, Andy Pettitte, Craig Biggio, Lance Berkman, Jeff Bagwell, Carlos Beltran and Jeff Kent. The team had just replaced Jimy Williams as manager with Phil Garner.
"I tried not to step on any toes and made sure that I opened doors for them and got out of their way, got anything they needed," Qualls said of playing with the vets. "It was nice my pitching coach was Hickey and that made the transition easy. I was minding my p's and q's and kind of stayed to myself, and fortunately the guys took to me pretty soon and I was able to open up and be myself a little bit. I always stayed respectful of those guys and kept chugging along and kept throwing sinkers and sliders, and here we are."
Brian McTaggart is a reporter for MLB.com and writes an MLBlog, Tag's Lines. Follow @brianmctaggart on Twitter. This story was not subject to the approval of Major League Baseball or its clubs.