Springer scratched with sore right quad, knee
Porter expects rookie slugger to return to lineup during A's series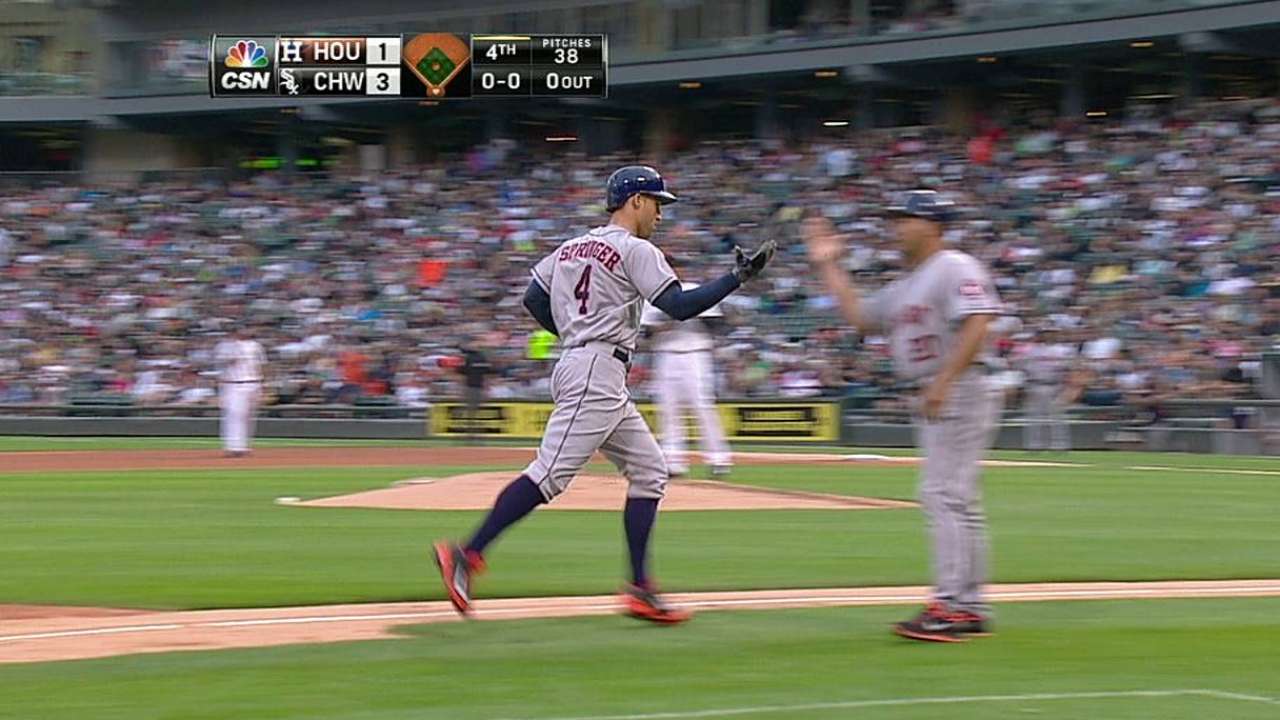 CHICAGO -- Astros outfielder George Springer was scratched from the lineup for Sunday's series finale against the White Sox due to soreness in the quad and knee on his right leg, manager Bo Porter said.
The rookie, who leads the team with 20 home runs, first hurt the knee when running into the outfield wall while going for a fly ball in Arlington earlier this month. The quad, however, has become sore over the grind of the season, Porter said, while noting that Springer likely won't go on the disabled list.
"Obviously he wants to play and we would love to have him in the lineup, but at the same time, sometimes you have to protect them from themselves," Porter said just after the lineup posted before Sunday's game. "This is one of those situations where, from a medical standpoint and my standpoint, we want to protect him from himself."
Springer is the third starting outfielder Houston has lost to injury in the past month, joining Dexter Fowler (intercostal strain June 26) and Alex Presley (right oblique July 7), who are on the 15-day DL.
The Astros started L.J. Hoes, Enrique Hernandez and Robbie Grossman from left to right, respectively, who were hitting a combined .201 entering Sunday.
"It's really tough," Porter said of the outfield attrition. "When you look at how well Presley was playing before he ended up going down, [and] obviously Dexter was the catalyst at the top of our lineup; he's out. Now you've got Springer out and you pretty much have your starting outfield is basically on the shelf or not available."
Hernandez's shift to center marks the third position he's played in just as many days after starting Friday at shortstop and Saturday in left.
"When you think about your center fielder, you want it to be the person that attacks the baseball," Porter said of Hernandez, who has also played second since being called up July 1. "He's an aggressive baseball player that we're comfortable putting out there."
Porter wouldn't specify when his injured outfielders would be back other than noting that Springer will likely return during the series with the A's in Oakland, where the team opens a three-game set Tuesday.
"I think one of the reasons we decided to give him the day knowing you've got a day off [Monday] is that you're hoping that you're not looking at something that's going to have him out of the lineup for an extended period of time," Porter said.
Daniel Kramer is an associate reporter for MLB.com. This story was not subject to the approval of Major League Baseball or its clubs.