Before game, Astros watch US soccer advance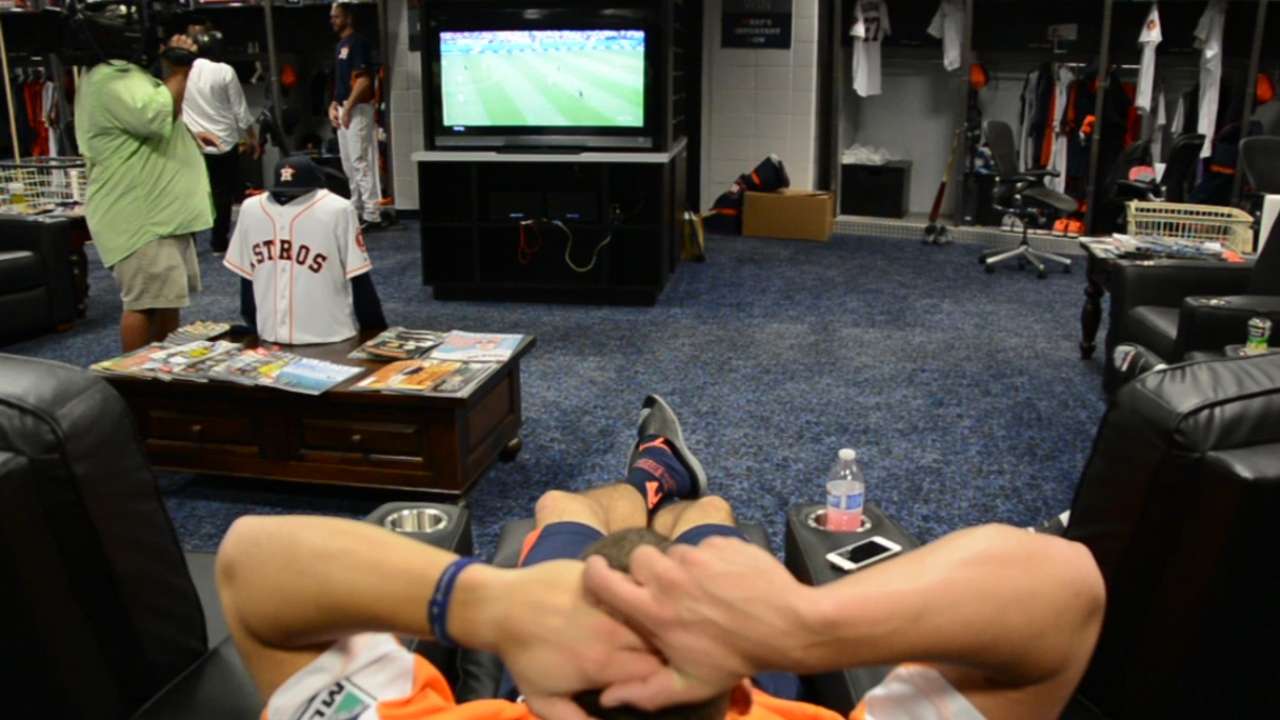 HOUSTON -- Rookie outfielder George Springer walked into the Astros' clubhouse Thursday morning wearing the orange jersey of Brad Davis of the Houston Dynamo while preparing to cheer on the United States Men's National Team in its World Cup match against Germany.
So when Springer found out Davis was in the starting lineup for the Americans, it only buoyed his excitement.
More
"I think they've got a tough match today," he said. "They've been playing really well. It's a shame they gave up that goal in the last seconds in stoppage time [Sunday against Portugal], but I feel confident. I feel like they're going to tie at the very least."
The U.S. lost to the Germans, 1-0, but still advanced to the next round by way of Portugal's 2-1 win over Ghana. When the match started, Springer and his orange jersey were front and center leading the cheers in the middle of the Astros' clubhouse, where several players flopped down on leather chairs to watch the match.
"Give it to Davis," Springer shouted. "It's raining. This is the shot we have. Brad's going to put one in the back of the onion bag."
Springer was joined by outfielder and soccer aficionado Alex Presley, with pitcher Jake Buchanan sitting close by. Soon, Jose Altuve and Jesus Guzman joined the viewing party, with Jerome Williams sitting on the fringes to provide some commentary.
"'Why are we going the other way, guys?'" cracked Williams when the U.S. passed the ball back to keeper Tim Howard.
Germany dominated possession early, which really didn't bother Presley. He understood the U.S. needed at least a tie, so losing possession and keeping the Germans off the board was OK. Presley has a keen eye for the game, having played in high school.
"Soccer and baseball, I played my whole life," said Presley, who wore a red U.S. soccer T-shirt to the park. "I know what's going on when I watch a game and most guys don't know what's going on."
Six minutes into the match, Springer finally turned up the television and turned off the reggae music that was started by Chad Qualls. Altuve didn't sit down to watch the match until the eighth minute.
"Just be careful with [Thomas] Müller," Altuve said. "He's so good."
Altuve played lots of soccer while growing up in Venezuela and has a rooting interest in this year's World Cup.
"I think I'll go with Brazil and United States," he said. "Those are my two teams. I would like to go with my country, but they're not there. I know they're working hard to be in the World Cup in the future."
In the 10th minute, Springer grew more frustrated with the U.S. play: "OK, United States, there are sides of the field -- your defensive side and your offensive side."
Outside the clubhouse, the game was showing on the large scoreboard inside Minute Maid, and a few hundred Astros fans were in the stands watching. Pitchers Josh Zeid and Collin McHugh watched intently from the dugout railing, with McHugh pulling a stool from the dugout to get a better view.
When Howard made a spectacular save, McHugh put his hands on his head and screamed.
"We need a tie," he said. "I don't know if we can win this game. Anything can happen, but we do need some good, hard defense."
McHugh is also a huge soccer fan. A lot of his friends were soccer players in middle school and high school, and he started following the English Premier League. His roommate for three years in the Mets system was a German, so he also followed the German Bundesliga.
"Soccer's starting to catch on in the States," he said. "I don't think it's going to be long, maybe four or five years, before we're like an actual influence in the world of soccer. It's exciting to see."
When the final whistle blew and the Americans were assured safe passage to the next round, it was only about 15 minutes prior to first pitch against the Braves and most of the players were still in the clubhouse watching the game and soaking up the win.
You can bet Springer's orange jersey will be back to cheer on the Americans in the round of 16.
"I think it's great for them, obviously, as a team, but for us as a nation," Springer said.
Brian McTaggart is a reporter for MLB.com and writes an MLBlog, Tag's Lines. Follow @brianmctaggart on Twitter. Mike Vernon is an associate reporter for MLB.com. This story was not subject to the approval of Major League Baseball or its clubs.
Less