Slugging second-rounder Reed, Astros agree on deal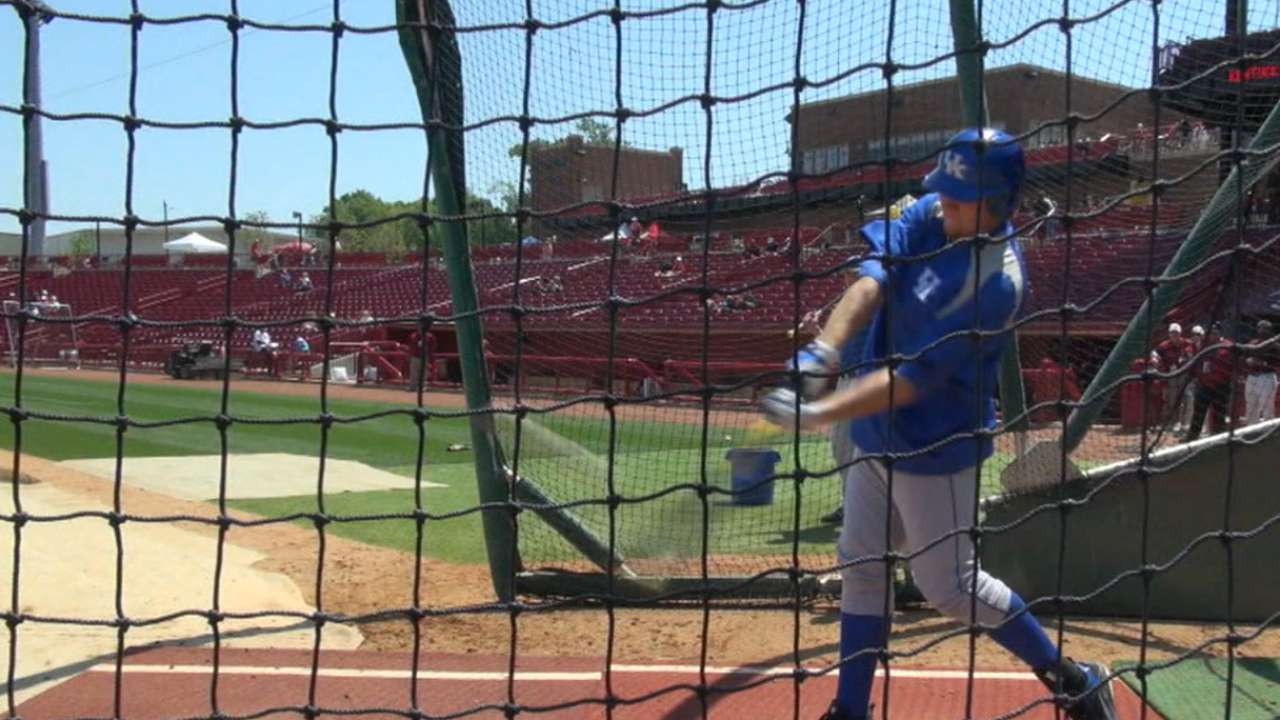 HOUSTON -- A.J. Reed, the burly slugger who's a finalist for the Golden Spikes Award as the college national player of the year, has reached an agreement on a contract with the Astros, he told MLB.com on Monday. He was taken with the first pick of the second round (42nd overall).
Reed, a 6-foot-4, 240-pound left-hander, was a two-way star at Kentucky as a pitcher and a hitter, but Houston drafted him as a hitter. He said he'll be in Houston on Wednesday to sign his deal and take a physical. The club has not confirmed the deal
"I'm excited," he told MLB.com. "I'm glad the whole process is over and I'm excited to get out here and start over."
Reed led the nation in homers (23), slugging (.735) and on-base plus slugging percentage (1.211), while ranking as the Southeastern Conference leader, and fourth in the NCAA, in pitching victories (12). Reed hit .336 with 18 doubles, one triple, 73 RBIs, 49 walks and a .476 on-base percentage while posting a 2.09 ERA as the Wildcats' Friday night starter.
"I'm ready to play that full year," he said. "The past couple of summers, I didn't really hit that much, just kind of pitched. I'm ready to see what it's like playing that 60-game college season and player another 70, 80 games in the summer and fall. I'm anxious to see how I respond to that and what it takes to do that."
Reed was asked if he would miss pitching.
"I don't know if that's something I can tell right now," he said. "I'm excited that I finally can focus on one area."
In his storied three-year career, Reed had a .306 average in 172 games, with 35 doubles, three triples, 40 homers and 168 RBIs, with a .559 slugging percentage and a .415 OBP. On the mound, Reed -- a first-team All-America selection -- had a 19-13 record with a 2.83 ERA in 248 innings, allowing just 53 walks and striking out 174.
MLB.com previously reported the Astros had agreed to terms with ninth-round pick Bryan Radziewski, a left-handed pitcher from the University of Miami, eighth-round pick Bobby Boyd, a center fielder from West Virginia University, and 10th-round pick Jay Gause, a right-handed pitcher from Faulkner University in Alabama.
Astros' sixth-round pick Brock Dykxhoorn, a right-handed pitcher from Central Arizona College, said Saturday he had agreed to a signing bonus and was sorting out the final details of the contract.
Brian McTaggart is a reporter for MLB.com and writes an MLBlog, Tag's Lines. Follow @brianmctaggart on Twitter. Adam Lichtenstein is an associate reporter for MLB.com. This story was not subject to the approval of Major League Baseball or its clubs.