Mengden excited to join hometown Astros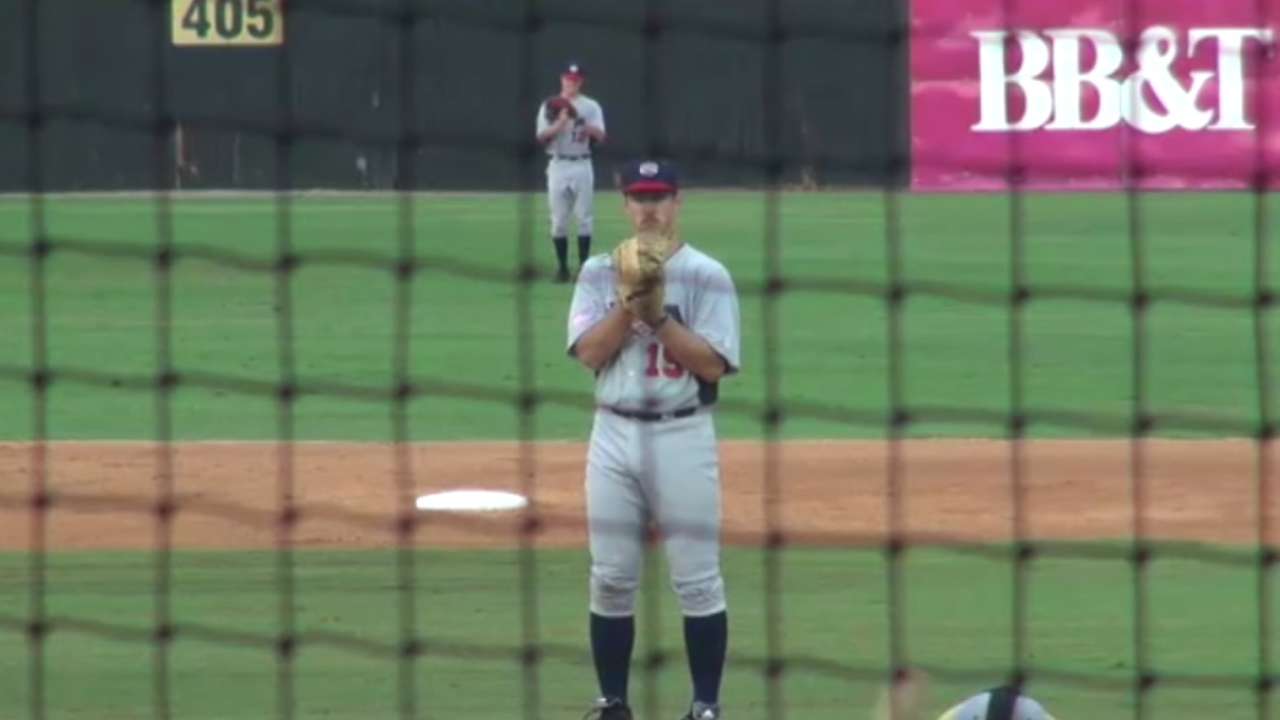 Daniel Mengden grew up an Astros fan in Houston, occasionally going to Minute Maid Park on a weekend to watch a game. Mengden remembers Lance Berkman was his favorite player.
"Once I got older and older, I figured out I was pretty good at baseball, and I really wanted to pitch for the Astros," Mengden said. "I'd want to pitch for any team in the Major Leagues, but it would be really cool to get to play for the hometown team and play for the Astros."
Early Friday afternoon, Mengden got a phone call from the Astros, with the message that he would be joining the organization he grew up watching. The club selected Mengden with the first pick of the fourth round (106th overall) in the 2104 First-Year Player Draft.
"It was nerve-racking and exciting all at the same time," Mengden said. "I kind of had to soak it in for a minute to actually realize I was getting picked by the Astros."
Mengden, a right handed pitcher from Texas A&M, went to Westside High School in Houston and was named District 20-5A MVP three times. He threw 103 2/3 innings for the Aggies and had a 4-9 record with a 4.08 ERA his junior season.
Scouting director Mike Elias said Mengden threw this past season with a stress fracture in his back. The injury heals with rest, which the Astros plan to give him.
"We came in during winter meetings, he would be what we call a group one follow, which is for the top 50 picks in the Draft," Elias said. "To get him in the fourth round is a really good value pick."
Texas A&M coach Rob Childress said he had no idea the Astros were going to take Mengden.
"He's excited," Childress said. "He's obviously a kid that has grown up in Houston and played close to home. The opportunity to work his way back to his hometown, I think is pretty exciting for any kid."
Mengden is the second pitcher the Astros have selected and the first since drafting Brady Aiken with the No. 1 overall pick. Aiken, a 17-year-old left-hander, was followed by three position players out of college: Derek Fisher, A.J. Reed and J.D. Davis.
Mengden is 6-foot-1, 210 pounds, and was named to the USA baseball Collegiate National Team as a sophomore. Mengden, 21, was a two-way player for the Aggies his first two seasons in College Station, Texas.
With Team USA last summer, Mengden began to exclusively work as a pitcher and carried that into his junior year. Mengden struck out 95 batters and walked just 29. Opponents had a batting average of .258 against him.
"Had we made the decision to make him a full-time position player, I think he would've gone every bit as high in the Draft as a catcher and a hitter," Childress said. "Based on our needs at the time, we needed him to be a full-time pitcher."
His first option from the mound is a fastball that ranges from 88-94 mph. His No. 2 pitch is a slider that varies from 82-85 mph. He also throws a curveball and a changeup for his third and fourth options.
"I truly believe he's going to make the Houston Astros organization better," Childress said.
The Draft concludes on Saturday, with exclusive coverage of Rounds 11-40 beginning on MLB.com at noon CT.
Mike Vernon is an associate reporter for MLB.com. This story was not subject to the approval of Major League Baseball or its clubs.