Astros go with prep lefty Aiken at No. 1 in Draft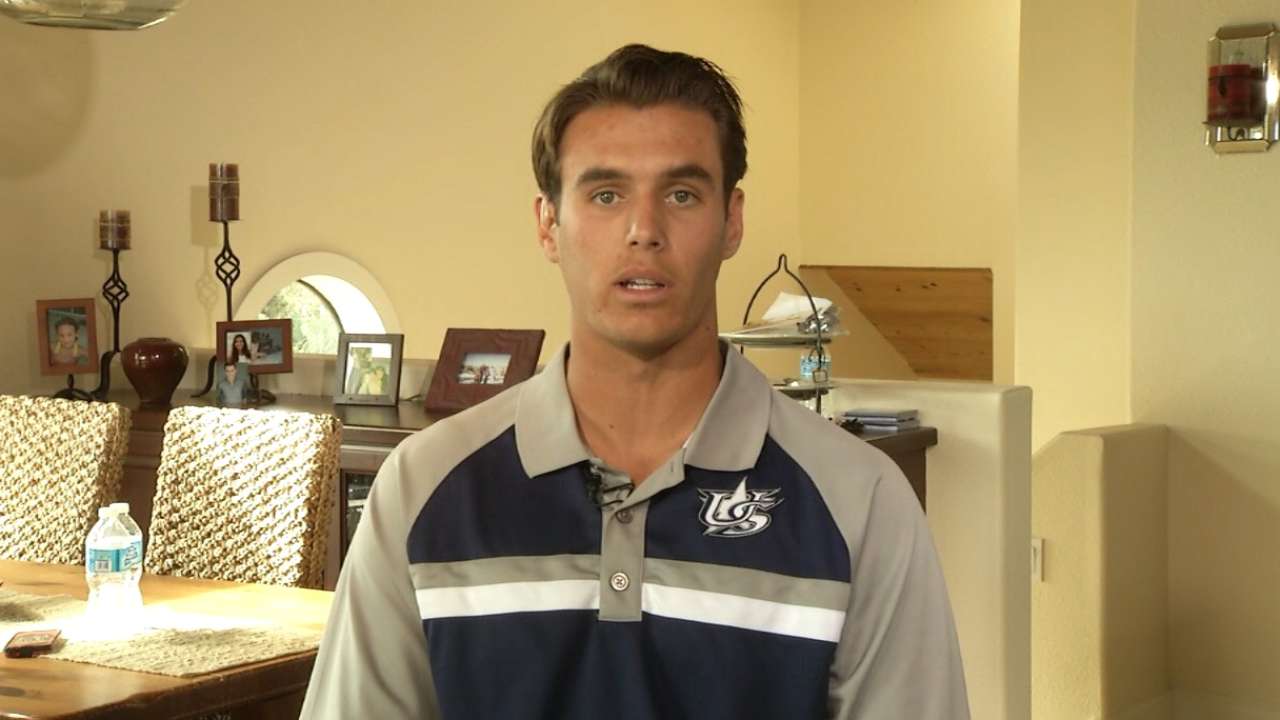 HOUSTON -- Astros general manager Jeff Luhnow's cellphone rang just as he stepped to the podium to meet the media shortly after drafting high school left-hander Brady Aiken with the No. 1 overall pick in Thursday's 2014 First-Year Player Draft.
On the other end of the line was the man of the hour, or more like the boy wonder. Aiken -- a 17-year-old with so much poise and upside he has been compared to Clayton Kershaw and Andy Pettitte -- and Luhnow exchanged pleasantries before the GM passed on a word from manager Bo Porter.
"Bo asked me if you're available tomorrow in Minneapolis," Luhnow joked.
Aiken, of course, has a long road ahead of him to reach the Major Leagues, but the Astros are confident he'll be a big part of their rotation in the future. The 6-foot-4, 210-pound Aiken appears to be the whole package -- size, poise, good feel for pitching and possesses a great makeup, which was a word the Astros used repeatedly.
"The tools are in place to get a front-line starter, a big left-hander in our rotation for a long time," scouting director Mike Elias said. "We think he can log innings, with the way he's thrown the ball and the way he's built."
Aiken, drafted out of Cathedral Catholic High School in San Diego, is the second consecutive pitcher that Houston has taken with the No. 1 overall pick, joining Stanford right-hander Mark Appel. It's also the second time in three years the Astros have drafted a 17-year-old with the top pick, joining 2012 top pick Carlos Correa, a shortstop taken out of Puerto Rico.
"It's really a big honor, and I just think I've worked hard enough and I've done everything I could to put myself in the position that the Astros wanted to make the move, so I'm really excited to get the call," Aiken said. "I'm just excited to go out there and start working hard and start helping the team."
Aiken is only the third left-handed high school pitcher to be taken with the first overall pick, joining Brien Taylor (Yankees, 1991) and Houston's David Clyde (Rangers, 1973). Aiken is the fifth lefty selected first overall, and the first since David Price was taken by Tampa Bay in 2007. It's the second time the Astros have selected a lefty with the first selection in the Draft (Floyd Bannister, 1976).
"We've been following this kid for a while, we really like him a lot," Luhnow said. "We feel he adds something to the organization, a young, dynamic, high-upside left-handed pitcher that we haven't had in a while. I couldn't be more excited for the Houston Astros and the Houston Astros' future by adding this player to what already is a very strong system."
Aiken spoke with excitement about where the Astros are headed.
"I know the next few years, the Astros are going to be World Series contenders, and I'm really excited, and hopefully I can start my career here soon and work my way up and help them win a couple of championships," he said. "That's my main goal, to be my best and help lead the team to World Series championships."
The Astros turned to offense with their second two picks Thursday, tabbing University of Virginia outfielder Derek Fisher with their No. 37 overall pick in the Competitive Balance Round A, a pick acquired from the Orioles in the Bud Norris trade. A few minutes later, Houston took University of Kentucky slugger A.J. Reed with the first pick of the second round (No. 42 overall), adding a player who could have the most raw power in the system once he's signed.
Astros scout Brad Budzinski has followed Aiken since the lefty was 14 years old, and Budzinski said as soon as Aiken started pitching on varsity, he knew the southpaw had a chance to be a high Draft pick. Houston entered its offseason meetings in January with Aiken very close to the top of its list for the pick, and he did nothing but continue to impress throughout the season.
"He got the point where you're not only very comfortable with him mechanically and his stuff, but with what I think is phenomenal makeup," Budzinski said. "Really a special player and special person."
Elias said Aiken throws between 89-96 mph with a plus curveball and an advanced feel for using his changeup, which is rare for a high school pitcher. He recently scrapped a cutter he had been working on, citing the recent rash of arm injuries.
Aiken posted a 7-0 record and a 1.06 ERA in 11 starts in his senior season. He was a 2014 Perfect Game first team All-American and an All-Region first team California.
Aiken led Team USA to the gold medal at the 18-and-under World Cup in Taiwan last September by winning both of his starts, including a championship-game performance against Japan in which he struck out 10 and allowed one run in seven innings.
"Obviously, when you select a high school pitcher this high in the Draft, you feel very convicted this pitcher, in particular, is a special one, and a lot of our senior scouts agree this is the best high school left-hander that they've scouted," Elias said. "He has everything going for him in terms of his size, delivery, his repertoire, his pitchability. I think most importantly, what Brady's made of is a big reason why he was our pick today.
"We did a lot to get to know him and his family and how he got to where he is, and where he intends on going, and I think it's going to be a very special addition to this organization."
Elias said Budzinski "pounded the table" for Aiken as much he's seen a scout do so.
"Brad is one of our best area scouts, and we put a lot of faith in him in this process, and certainly his advocacy for Brady was really the difference maker here," Elias said. "We couldn't be more excited to have a left-handed pitcher of his caliber, his upside, in our organization."
There's no reason to believe the Astros won't be able to sign Aiken. The top pick comes with an allotted value of $7,922,100. When Aiken is signed, he'll join a pitching-rich Minor League system that includes Mike Foltynewicz, Vincent Velasquez, Brady Rodgers, Lance McCullers Jr., Andrew Thurman, Josh Hader and Kent Emanuel, among others.
"We feel like we're in a good spot to sign this player," Luhnow said. "When a player gets taken [first round, first overall], he intends to sign. He has options, and he's committed to UCLA, and I'm sure UCLA would love to get him, but we don't think they're going to."
Another plus for Houston is that there's not a lot of mileage on Aiken's arm. Budzinski said he averaged no more than 80 pitches as a senior in high school, though he was extended, at times, toward the end of the season.
"They've done a very good job pacing him," Budzinski said.
Luhnow said the Astros considered six players for the No. 1 pick before turning to Aiken.
"It was a really tough decision, but what separated it for us was not only the talent, but the makeup on this young man," Luhnow said. "We really think that's going to separate him and allow him to achieve his potential. The potential is as high as anybody we've had in the organization."
The 2014 First-Year Player Draft runs through Saturday, with MLB.com's exclusive coverage of the second and third days beginning with a live Draft show at 11:30 a.m. CT on Friday.
Brian McTaggart is a reporter for MLB.com and writes an MLBlog, Tag's Lines. Follow @brianmctaggart on Twitter. This story was not subject to the approval of Major League Baseball or its clubs.