Porter not a fan of headfirst slides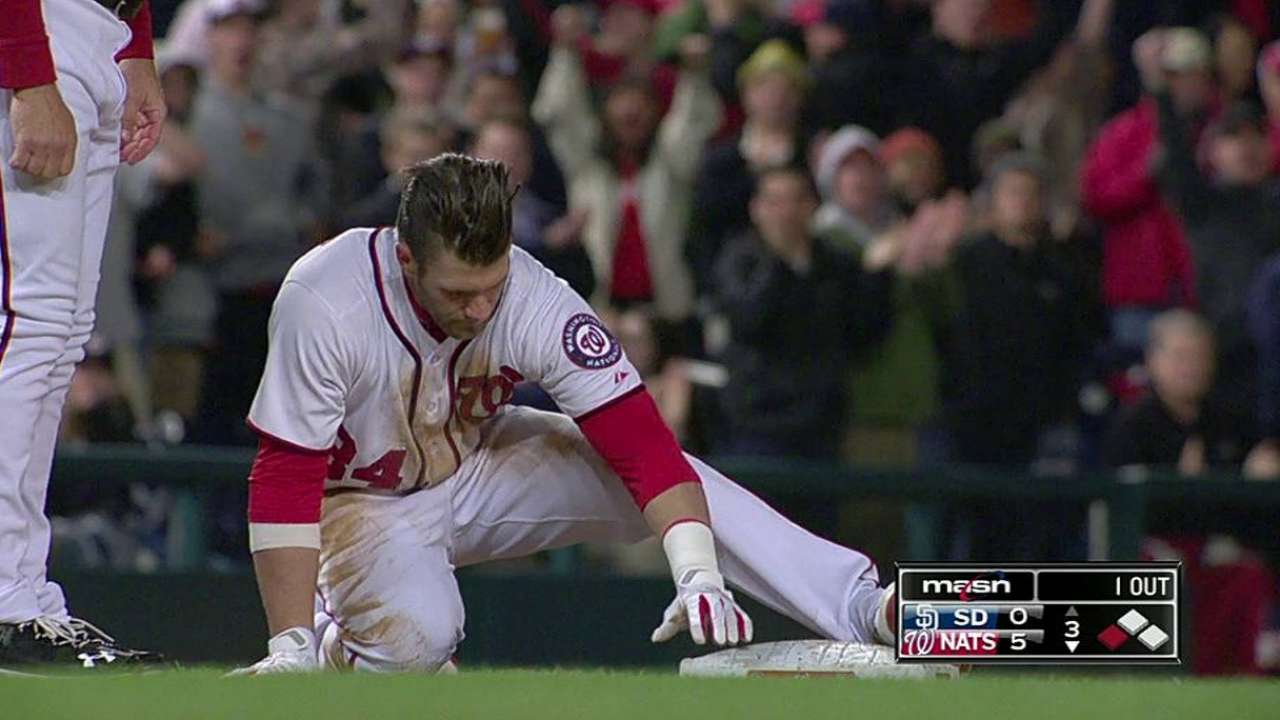 HOUSTON -- With high-energy Nationals outfielder Bryce Harper placed on the 15-day disabled list Sunday with a sprained left thumb, manager Bo Porter -- who worked with Harper while a third-base coach with the Nationals for two years -- expressed concern over the danger of sliding headfirst into the bases.
Astros rookie right fielder George Springer, who like Harper plays with ultra aggressiveness, has slid headfirst at least a couple of times since he was called up, including once into home plate. Harper hurt the thumb Friday against the Padres when he slid headfirst following a three-run triple and jammed the finger into the base.
Porter said he's told his players he prefers them sliding with their feet first.
"I don't like headfirst slides," said Porter, who still communicates with Harper via text messages. "It just exposes too much of your body, and you can get finger and hands [hurt]. I really don't like headfirst slides. Players, for whatever reason, guys that like to slide headfirst, it's more of a knee-jerk thing as far as their sliding technique. It's something I really don't like, especially when you talk about first base and home plate and the risk of injuries that could happen."
Porter admitted that when he was a player he would try not to slide headfirst, but it's instinctual.
"I think sometimes with guys, it's just a reaction," he said. "You may even want to slide feet first and the ball could take the person one way or another, and before you know it your instincts take over."
The Astros used to have a rule in the Minor Leagues that prohibited players from sliding headfirst. Players who did so were immediately taken out of the game if they did. Earlier this year, Angels slugger Josh Hamilton tore a ligament in his left thumb after sliding headfirst into first base and is expected to miss six to eight weeks. Harper will be sidelined when the Nats visit Minute Maid Park on Tuesday and Wednesday.
Brian McTaggart is reporter for MLB.com and writes an MLBlog, Tag's Lines. Follow @brianmctaggart on Twitter. This story was not subject to the approval of Major League Baseball or its clubs.