Astros send Albers to DL, call up Cisnero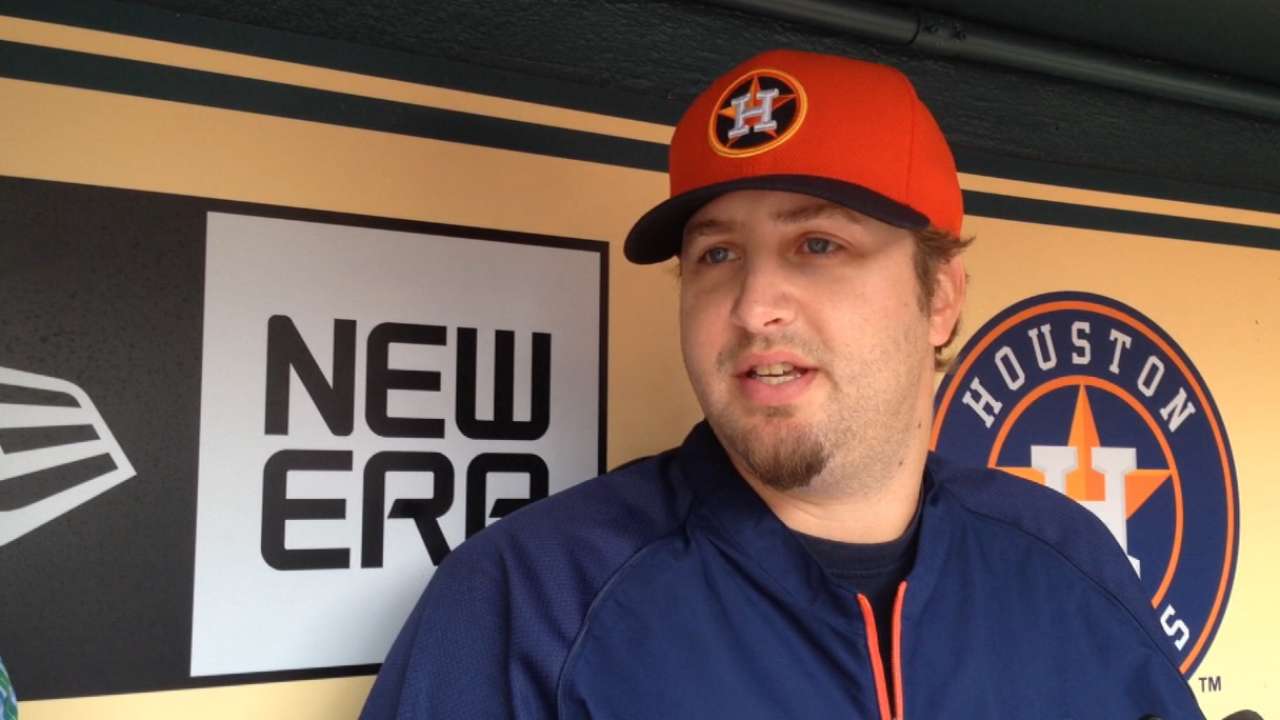 HOUSTON -- The Astros' offseason pitching acquisitions keep going down.
The organization announced Friday that reliever Matt Albers had been placed on the 15-day disabled list retroactive to April 22 because of tendinitis in his right shoulder. The righty joins veteran Scott Feldman on the DL. Jose Cisnero was called up from Triple-A Oklahoma City in Albers' place.
"He hadn't thrown in a few days, and in talking to the doctor and talking to Matt we felt like the best idea was to be cautious and give him as much time as possible," general manager Jeff Luhnow said. "We do have two off-days next week, so that gives us a little bit of comfort."
Albers had missed three straight games prior to Friday, but manager Bo Porter had said he hoped to avoid an official stint on the disabled list.
After Albers was evaluated by trainers and received treatment on the shoulder, that apparently was not possible.
"I'm a little concerned, yeah," Albers said. "Going on the DL, that's never a good feeling. Hopefully it's just some discomfort and inflammation and we deal with it early enough to not miss significant amount of time."
Albers, 31, had been the Astros' best bullpen arm this season, posting a sub-1.00 ERA and allowing only one run in 10 innings.
But as he was compiling those numbers, Albers said, his arm was only getting more tender with each outing.
"It's just gradually gotten worse," he said. "Just starts off with some soreness, no big deal, and progresses to the point where it'll continue to get worse unless I take some time off. It got to a point where it wasn't comfortable to pitch."
Cisnero struck out 18 hitters in 11 innings during six appearances with the Redhawks after showing some positives strides in Spring Training.
"He was off to a great start in Triple-A," Luhnow said. "He's been working on his secondary stuff, and it's coming along pretty well. He's also gotten up to 96 [miles per hour]. He can go one inning or he can pitch three innings, so it gives us some flexibility in the bullpen and a live arm.
"We're excited about his return."
Cisnero spent a couple of months in Houston last season, compiling a 2-2 record while surrendering 23 runs (20 earned) but fanning 41 batters in 43 2/3 innings.
"Last year for a good stretch he was arguably one of our better relievers, and he hit a snag where he really just lost his fastball command," Porter said. "He's worked extremely hard in getting the mechanics back, and we can't wait to get a look at him."
Chris Abshire is a contributor to MLB.com. This story was not subject to the approval of Major League Baseball or its clubs.