Appel working back toward full strength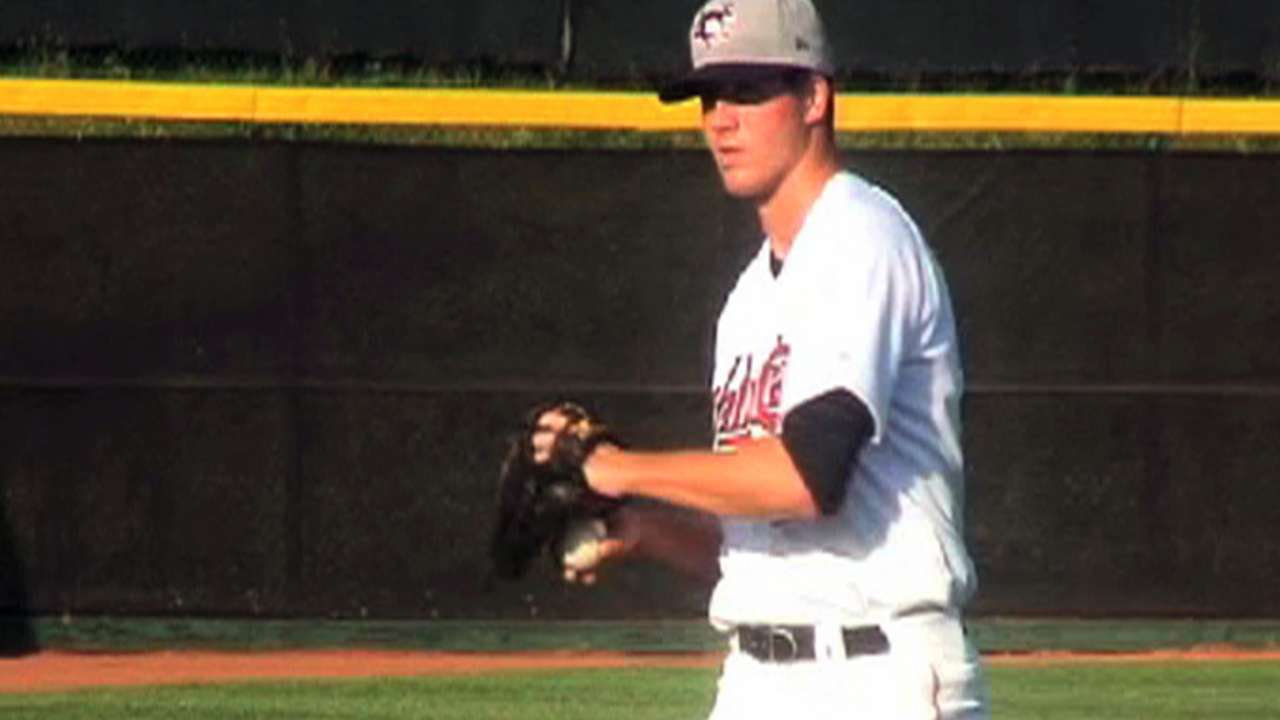 KISSIMMEE, Fla. -- Astros pitcher Mark Appel, the club's No. 2 prospect in MLB.com's rankings, wants to be ready for the start of the season after an appendectomy delayed his spring preparations.
The right-hander took a step in that direction by throwing a side session on Wednesday, and he plans to complete another on Saturday before progressing to live batting practice, followed by game action.
"I really don't know what the trainers and decision-makers are going to do, but my goal is to be ready to pitch at least five innings by the time the season starts," said Appel, the No. 1 overall pick in the 2013 First-Year Player Draft out of Stanford. "I think I can get there. If they think that's too aggressive and they want me to hold back, then there's not much I can do about that."
Appel added that he trusts the Astros' training staff and knows the goal is to keep him from further injury. That being said, he aims to help the Major League club "as soon as possible."
"I believe I can, if I'm feeling healthy and pitching well," he said. "I'm feeling healthy now, and so now it's getting to where I can pitch well and pitch five, six, seven, eight innings -- whatever the team needs me to do.
"So that buildup process can sometimes take a couple weeks, a month or so, but it's not any concern of mine, because it is a long season and I'm sure wherever I start out, I'll be able to be back in the regular rotation, if not right at the start of the season, then within a week or two."
Astros general manager Jeff Luhnow agreed that Appel likely will be good to go at the start of the season, but he might not be able to take on a full innings load immediately.
"Is he realistically going to be pitching four to five innings?" Luhnow said. "Possibly. Realistically, he'll be able to pitch in games, but how deep remains to be seen."
Appel is a non-roster invitee to big league camp this spring after making his pro debut last year, with 10 effective starts at two of Houston's Class A affiliates. But after throwing only one side session, he underwent the emergency appendectomy at the end of January.
The 22-year-old took about three weeks off after the procedure and found that when he started to play catch again, the scar tissue made using his abdominal muscles a painful task. Once he got through that, he began building up his arm, using all of his offerings during Wednesday's 30-pitch bullpen session, which caused him no pain.
Appel plans to throw live batting practice early next week, then make his Grapefruit League debut sometime during the Astros' three-day homestand that begins next Thursday against the Phillies at Osceola County Stadium.
"It's just continuing to work on those pitches, get them back to where I was towards the middle of the season last season at Stanford," he said. "I know I'll be there sooner than later. It's just a matter of time of getting the work in and getting to face some hitters. Our coaches are always like, 'It's riding a bike. Once you get back out there, you'll be fine.' So I'm not worried at all, but just real excited to start pitching again."
Andrew Simon is a reporter for MLB.com. Follow him on Twitter @AndrewSimonMLB. This story was not subject to the approval of Major League Baseball or its clubs.