Stassi among four sent to Minor League camp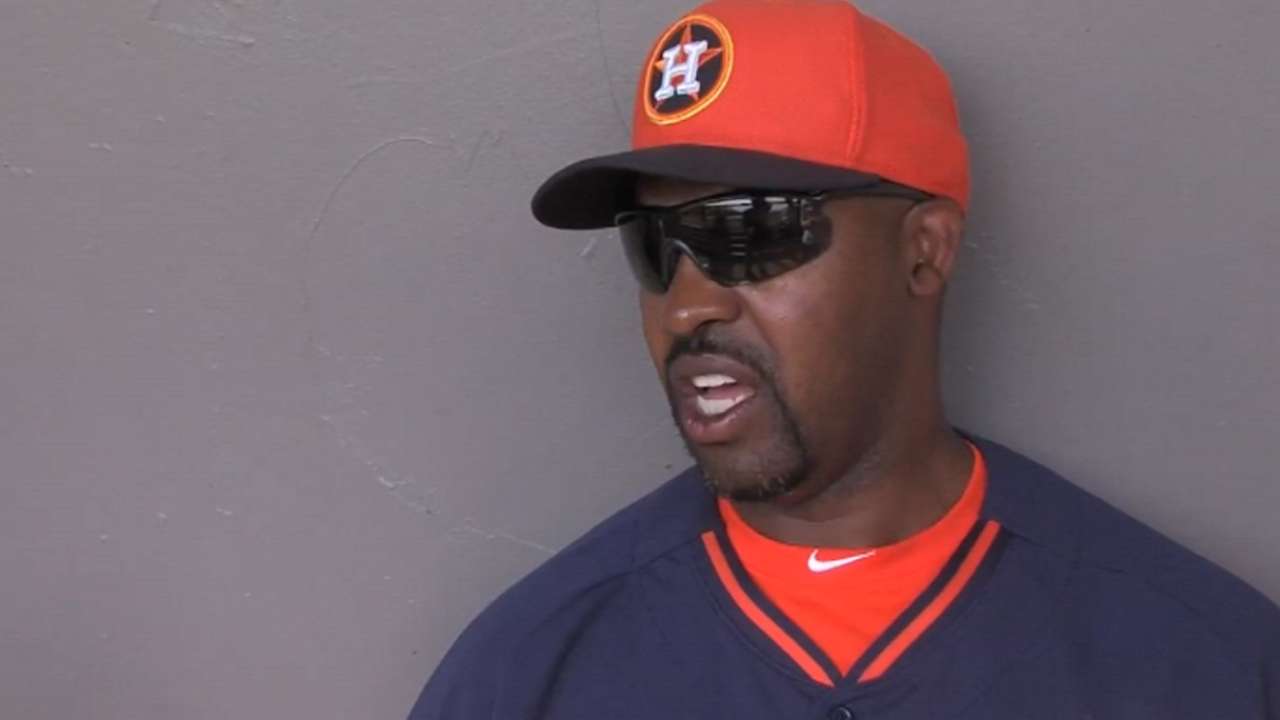 VIERA, Fla. -- Astros manager Bo Porter believes Max Stassi has the ability to become an everyday catcher in the Major Leagues, but that time has not come just yet.
Stassi was one of four players the Astros optioned to Minor League camp on Monday, one day after they made their first nine cuts. Pitchers Luis Cruz and David Martinez and outfielder Domingo Santana joined Stassi, leaving Houston with 52 players in big league camp as increasing workloads for starters begin to leave less work for everyone else.
Like the others, Stassi is on the Astros' 40-man roster. But with Jason Castro and Carlos Corporan ahead of him on the depth chart for now, the club felt he would be better served getting regular playing time on the Minor League side, where games are set to begin on Friday.
"I think we definitely got a good enough look where we see him as a guy who can be an everyday catcher," Porter said. "That was reiterated to him, that's why we want him to get down there, get on a regular turn, catching every day and calling the games, and we don't want him to be in Major League camp where Castro and Corporan are going to do the bulk of the catching. Now he's catching two innings a day here and there, when he can be starting and catching games and really working on his craft."
Stassi, who turns 23 on Saturday, is rated as the Astros' No. 12 prospect by MLB.com. He hit .277/.333/.529 with 17 home runs in 76 games at Double-A Corpus Christi last year and was called up to the Astros on Aug. 20. In his second game, he was struck in the face by a pitch, suffering a concussion that ended his season except for part of one game late in September.
While he's in the Minors, Porter wants Stassi to keep developing his game-calling and ability to guide a pitching staff.
"This guy really has a chance to be an offensive force as far as the catching position goes," Porter said. "We really want him to continue to improve being a student of the game and really putting an emphasis on -- like I tell the catchers every game -- 'Go catch a winner. That's your No. 1 job.'"
While Stassi was 2-for-9 this spring, Santana was 0-for-5. The 21-year-old, Houston's No. 8 prospect, hit .252/.345/.498 with 25 homers at Corpus Christi last year.
Martinez made his big league debut with Houston last year, pitching four games out of the bullpen. Cruz, a lefty, pitched mostly at Class A Advanced Lancaster, splitting time between the starting rotation and bullpen. Although he threw only one inning this spring, he's made an impression on Porter.
"There is absolutely no fear whatsoever," Porter said. "It doesn't' matter who's in the [batter's] box. He's a confident kid, and If I had his stuff, I'd be confident, too. It's a fastball with late life, a breaking ball that he can back foot to righties, he can spin it to a lefty, good changeup. All of his pitches come out of the same slot. He can throw them in any count.
"I told him, 'Look where you were at last year, the season you were able to put together, being put on the roster, coming to Spring Training and really opening the eyes of the entire staff.' I said, 'You've done yourself well, now get down there and continue to work, and at some point the phone's gonna ring and your number's gonna be called.'"
Andrew Simon is a reporter for MLB.com. Follow him on Twitter @AndrewSimonMLB. This story was not subject to the approval of Major League Baseball or its clubs.