Cosart visits old high school as hero on Caravan stop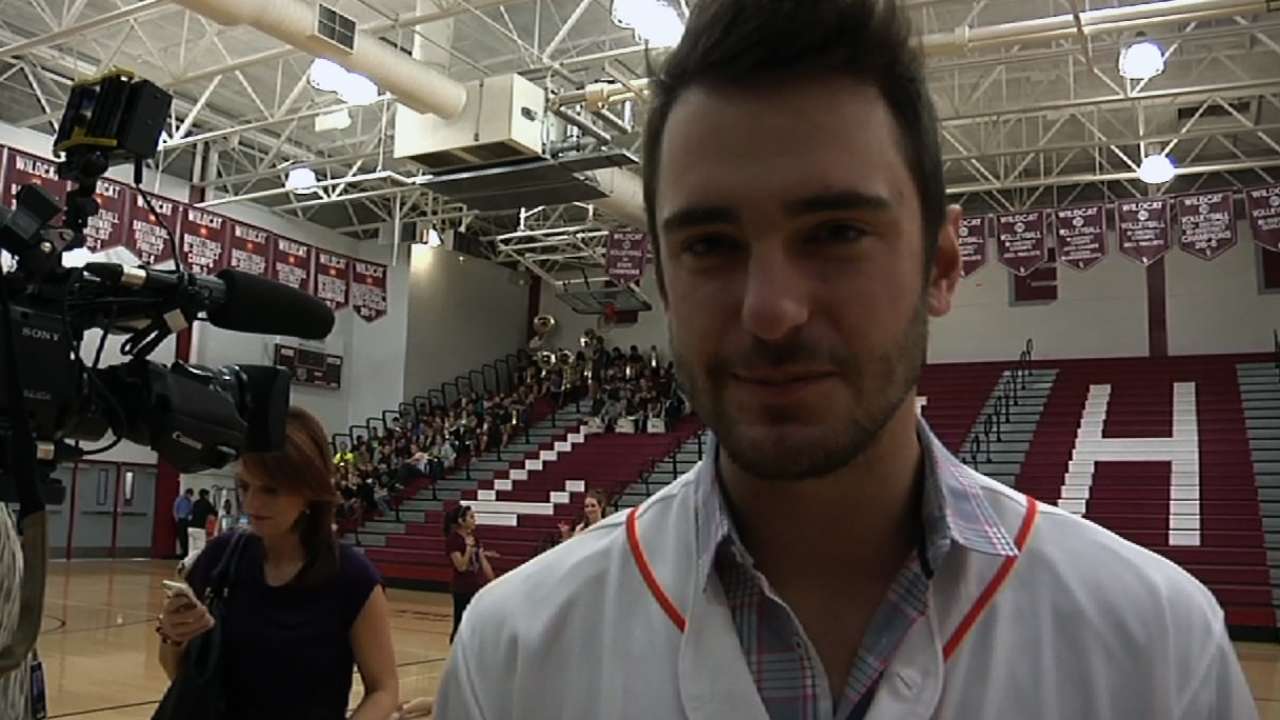 LEAGUE CITY, Texas -- Only a few years earlier, Jarred Cosart was one of the thousands of ordinary students wandering the hall of Clear Creek High School, about 27 miles south of Houston. His return Tuesday signaled he was anything but ordinary.
The Astros' up-and-coming right-hander was met with a rock-star reception when he joined new teammate Jesse Crain and manager Bo Porter at a pep rally as part of the Astros Caravan. Cosart signed autographs for teachers and staffers in the library before speaking to a gym full of students who were as excited to see the pitcher as they were to be out of class.
"It's pretty cool, it's pretty surreal," he said. "A lot's changed since I've been here, even though it hasn't been that long. Things look a lot different, but it's still the same old Clear Creek that I know and will always have a place with me because I played baseball here for three years and it was the building block of going forward to getting to where I am now."
When asked if he was the same kid who graduated in 2008, Cosart admitted he'd changed.
"I'm probably a little more talkative," he said. "I was the focus-on-baseball-and-not-say-much guy in high school, and I haven't changed much."
Cosart said many of the teachers he was looking forward to seeing no longer worked for the school, but he was able to be reunited with his former high school coach. Jim Mallory won 584 games in 33 years as head coach of the Wildcats.
"He's a legend in Houston," Cosart said. "He retired two years ago and he's living his life and I'm kind of doing the same thing. I'm sure we'll talk baseball. That's kind of how it always is. He was a great influence on a lot of people who came here and a lot of people outside of here. I'm excited to see what he's doing with this life."
Mallory coached three Major League players in his more than three decades of coaching, with Cosart and Jay Buhner at Clear Creek and Glenn Wilson at nearby Channelview High School. He was beaming with pride over Cosart.
"He's got a good support program here," he said. "I don't think he realizes it. So many people are proud of him, not only here in Clear Creek High School, but the Houston area, especially League City. He's a good guy. He's one of those success stories you like to see in a young man."
Brian McTaggart is a reporter for MLB.com and writes an MLBlog, Tag's Lines. Follow @brianmctaggart on Twitter. This story was not subject to the approval of Major League Baseball or its clubs.