Astros consider changes to outfield configuration
Astros consider changes to outfield configuration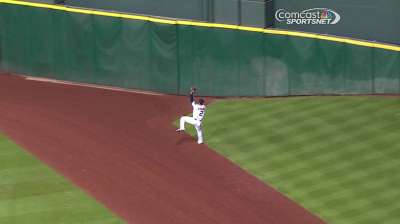 CLEVELAND -- Astros general manager Jeff Luhnow said Thursday that Tal's Hill -- the incline in center field at Minute Maid Park -- would return next year, but he hinted some changes could be made to the center field configuration down the road.
Luhnow said the Astros are still debating what center field will look like long-term from a standpoint of dimensions and potentially some features that could be added from a fan-enjoyment perspective, but it's status quo for 2014.
"There's a lot of considerations," Luhnow said. "There's marketing and customer experience considerations, but from a baseball operations perspective, do we want to risk having George Springer or Brandon Barnes run up the hill and potentially risk an injury? That's something that's definitely a consideration."
Springer, of course, is the team's No. 3 prospect and the center fielder of the future. Though the hill is certainly a novelty, no one has yet to be injured running up the incline to field a ball, so the injury risk appears minimal.
"My sense is there were more balls on the hill this year than last year," Luhnow said. "I don't know if that's because hitters hit the balls further or our outfielders are getting to those more. There seems to be more plays made on the hill, but all it takes is one twisted ankle.
"It hasn't happened yet -- knock on wood -- but since we play more games here than anybody else, if it's going to happen, it's likely going to happen to one of our players, and all it takes is one twisted ankle for it not to be worth it."
Conversely, Luhnow said the spacious center field -- which stretches 436 feet away from home plate - could be attractive to lure free-agent pitchers.
"A lot of balls get run down that would be out of other parks," Luhnow said. "There's definitely a lot to think about when you configure the dimensions of a ballpark. We just haven't made any decisions."
Brian McTaggart is a reporter for MLB.com and writes an MLBlog, Tag's Lines. Follow @brianmctaggart on Twitter. This story was not subject to the approval of Major League Baseball or its clubs.