Martinez admits being nervous in Tuesday's return
Martinez admits being nervous in Tuesday's return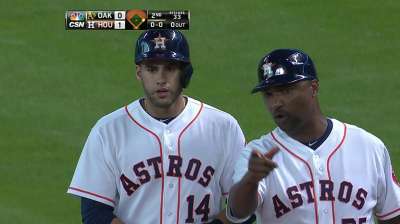 HOUSTON -- J.D. Martinez said the fastballs looked as if they were coming in at 100 mph.
The Astros outfielder pinch-hit in the seventh inning of Tuesday night's 10-0 loss to Cincinnati, his first at-bat since being placed on the disabled list with a left wrist sprain on July 26.
Martinez remained in the game in left field and batted again in the ninth inning, flying out to right both times.
"It's been a while since I saw live pitching," he said. "I took a strike in both my at-bats. I wanted to see something. The hardest part is the ball is moving so fast it's tough determining whether it's going to be a ball or a strike.
"I felt a lot better than I thought I would feel. I wasn't nervous. I was confident. The hand didn't hurt at all."
Martinez admitted he was nervous when he took his position in left field for the top of the eighth.
"I felt lost," he said. "Am I supposed to be here? I was nervous on routine fly balls. I was very limited [defensively during rehab]. It was pretty much me and the trainer. We got the machine and took some fly balls, but it's not the same."
It was important to Martinez to get back before the season ended, to show the Astros he can still play.
Martinez is hitting .255 with seven homers and 36 RBIs entering play Wednesday.
"Just to show I'm healthy and ready to go," he said. "Any time you go in the offseason with an injury, there's a lot of questions. 'Will he be ready to play next year?' Just getting at-bats is what's going to matter."
Unfortunately, the Astros have only 11 games left and have seven outfielders on their expanded roster.
"It was good to get him in there (Tuesday), give him an opportunity to get two at-bats and get him out in the field," manager Bo Porter said of Martinez.
How much will he play the rest of the way?
"It all depends on the matchups and who the other team is pitching," Porter said.
Timing with his bat will be the most important thing for Martinez to regain.
"Before, I left I felt like I was hitting the ball in slow motion," he said. "Now, it's kind of a blur. It will come. It's tough to take two months off and get back in there.
"It feels great in the cage. I feel like I'm hitting the ball a lot harder than I was early in the year. I'm antsy to get out there and see if it's going to work. I want to show people I can still make an impact."
Martinez said he will play winter ball for the first time to get the at-bats he lost the last two months, probably in Venezuela or the Dominican Republic.
"Given my situation, I always feel like I have something to prove," he said. "I don't feel like I'm established yet here. I definitely feel I've got what it takes, not that I've proven it."
Gene Duffey is a contributor to MLB.com. This story was not subject to the approval of Major League Baseball or its clubs.