Day to day with knee, Castro eyes weekend DH duties
Day to day with knee, Castro eyes weekend DH duties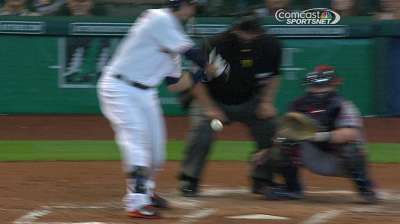 HOUSTON -- Realizing he returned to action too soon the last time, Jason Castro isn't taking any chances as he continues to monitor his balky right knee.
He still isn't ready to crouch behind the plate, but he is available to pinch-hit against the Angels. He'll be monitored on a daily basis, as he has since he had a cyst on his knee drained on Sept. 1. He last played Saturday in Oakland.
"It's definitely feeling better and the rest was definitely what I needed," Castro said. "I just think we didn't give it enough time after having it drained. That's what we backed off a little bit and wanted to give it four or five days or so to kind of get back to normal after having that done."
The goal is to see time as the designated hitter during the weekend series with the Angels, but that's iffy at this point. No one is in a rush to push Castro back into game action if he's not ready.
"If he deems himself ready to go and the training staff says he's ready to do everything, then he'll be right back behind the plate," manager Bo Porter said. "Until then, we're going to take all precautionary measures to make sure this is not something that he would have a setback for the remainder of this year or that will carry to the offseason."
Still, Castro is hoping to play again this season and said there have been no discussions regarding shutting him down until next year.
"We haven't even talked about that," he said. "It's still way too soon to start talking about that. We have a lot more options to discuss before that."
In other catcher injury news, Max Stassi said Friday he progressing well in his rehab and was planning to take batting practice in the indoor cages later in the afternoon. Barring setbacks, he'll hit on the field Saturday.
Stassi hasn't played since Aug. 21, his second Major League game, when he sustained a concussion after being hit in the face with a pitch.
He's still hoping to play again before the end of the season, although he acknowledged the more days go by, the more work he'll have to do just to get back into proper playing shape.
"It's late, but I'd like to get my opportunity this year," Stassi said. "I had a pretty crazy first couple of games. It would be nice to finish up the year playing. But I'm going to do whatever they tell me. Then I'll work on things in the offseason and come to spring ready to roll."
In the meantime, Stassi is rehabbing at an area facility.
"I'm 100 percent over everything," he said, referring to the concussion symptoms. "Nothing bothers me as far as sounds and light, or anything like that."
Alyson Footer is a national correspondent for MLB.com. Follow her on Twitter @alysonfooter. This story was not subject to the approval of Major League Baseball or its clubs.