Clark has Astros' support in pursuit of first hit
Clark has Astros' support in pursuit of first hit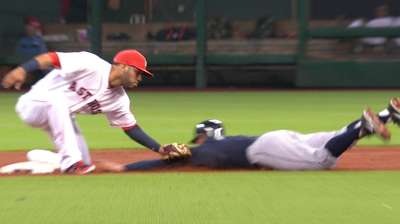 SEATTLE -- Nothing is bringing the Astros closer in the dugout these days than when backup catcher Cody Clark comes to the plate. Clark went 0-for-5 on Tuesday and was 0-for-24 in his Major League career entering Wednesday, but he has plenty of teammates pulling for him.
The club record for most at-bats without a hit was set by pitcher Bo McLaughlin, who was 0-for-32 from 1976-79 with the Astros. Shortstop Jason Smith holds the club record for position players, going 0-for-25 during the 2009 season.
Clark's teammates were on the top step of the dugout for his final at-bat Tuesday, and he has been getting text messages from former and current Major Leaguers wishing him good luck. Former Astros catcher Eddie Taubensee was among those who reached out to him.
"I have a lot of good teammates pulling for me, and everyone is hoping I get that first hit," said Clark, a 31-year-old rookie who was called up last month after 11 years in the Minor Leagues. "I came close, and in the past few games I have been pressing a little bit. I don't really know. I think when I get the first one, I will settle down."
During Tuesday's game, a line of Astros players sat together on the dugout steps with their backs to the field in an effort to change Clark's fortunes.
"Everybody has been pulling together," All-Star catcher Jason Castro said. "We've done some curse-breaking things. We're definitely behind him, pulling for him, and it would be nice getting that first one out of the way, because it will be a huge relief. We're all pulling for him."
Backup catcher Carlos Corporan got a hit in his first Major League at-bat with Milwaukee in 2009 -- a single off Cincinnati's Paul Janish, a shortstop who was pitching. Corporan did not get another Major League at-bat until he joined the Astros two years later.
"We're going to see it before the year is over, because he's been working so hard to get to the big leagues and working even harder to get his first hit," Corporan said.
Brian McTaggart is a reporter for MLB.com and writes an MLBlog, Tag's Lines. Follow @brianmctaggart on Twitter. This story was not subject to the approval of Major League Baseball or its clubs.