9/11 remains vivid part of Porter's memory
9/11 remains vivid part of Porter's memory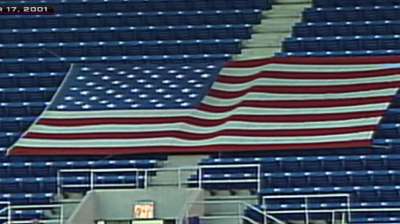 SEATTLE -- The Astros joined the rest of Major League Baseball in wearing commemorative American flags on their caps Wednesday, which was the 12th anniversary of the 9/11 terrorist attacks.
Astros manager Bo Porter, who grew up in New Jersey, has vivid memories of the day. He was in San Francisco while playing with the Rangers, and he could not believe what he was seeing on television as the magnitude of the news unfolded.
"We were all in complete panic, almost in shock, like, 'No, this is not happening,'" Porter said. "As the news started to get reported more and more, you really couldn't believe it. I had several people, whether family or close friends of mine, that worked in New York, and you were just concerned about people's well-being.
"Baseball has done a great job in general of paying tribute to the 9/11 date, and it's something that obviously will never be forgotten. It's very good that when this time of year comes around we can pause and pay our respects."
Porter said the Rangers took a bus from San Francisco to Arlington in the days following the terrorist attacks while airline travel was suspended.
"We knew we weren't going to play baseball," he said. "Are we going to fly? Are we going to drive? We didn't know what to do. The whole way back, we're still in shock. I know some people that lost some people on 9/11. You're remorseful for them and keep people in your prayers. So many people at that point had not been discovered, and you're waiting for the next breaking news of someone else [being found]. It was a trying time, very emotional, and obviously something we'll never forget."
Brian McTaggart is a reporter for MLB.com and writes an MLBlog, Tag's Lines. Follow @brianmctaggart on Twitter. This story was not subject to the approval of Major League Baseball or its clubs.