Astros rookie Villar's heady bunt draws praise
Astros rookie Villar's heady bunt draws praise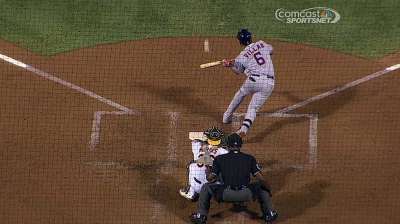 OAKLAND -- Jonathan Villar was acting on his own accord, but he had been given a nudge.
That was the case during Villar's impressive RBI bunt in the fourth inning of Friday night's loss to the A's. For the Astros shortstop, whose career has yet to comprise 40 big league games, this was a heady play, nonetheless. It comes on the heels of Villar being pulled from Wednesday's game against the Twins for an aggressive baserunning mistake.
Villar, who matched his career high with three hits in five at-bats, was batting left-handed in the fourth inning when he dropped a bunt down the first-base line to score teammate Brett Wallace, giving his team a temporary 4-3 edge. Villar said A's first baseman Brandon Moss playing on the dirt well behind first base was what led him to square around.
Villar, who entered Saturday batting .276 with four RBIs in 37 games, said Astros manager Bo Porter had told him to look for that very situation. It's a style of bunt he has practiced often in batting practice, he added.
"That didn't surprise me," second baseman and double-play partner Jose Altuve said of Villar's handiwork. "He can do a lot of different things. He can be a five-tool player."
Porter confirmed Saturday during his pregame gaggle with reporters that no call for a bunt came from the bench. The skipper added that he was as impressed, if not more, with Villar "eating" a potential double-play ball throw during Friday night's loss to the A's.
"It tells you the court awareness, the clock that's in his head," Porter said, borrowing basketball jargon. "He plays the game at a good speed.
"This guy's a baseball player. You watch him on the field and he continues to do things that probably go unnoticed by some people."
Andrew Pentis is a contributor to MLB.com. This story was not subject to the approval of Major League Baseball or its clubs.