Clark contributes on defense while awaiting first hit
Clark contributes on defense while awaiting first hit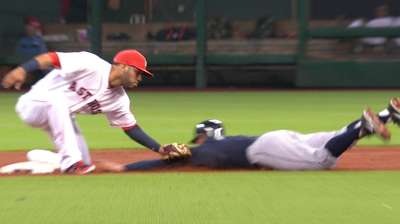 OAKLAND -- Cody Clark, Houston's 31-year-old rookie catcher, is hitless in 19 at-bats since making his Major League debut on Aug. 23, but he's still finding ways to contribute for his team.
Clark has thrown out six of eight would-be base stealers in six games this season, and he received another opportunity to notch that elusive first big league hit with his fifth career start on Friday night but went 0-for-2.
"I just want to get it out of the way and get it past me so I can stop thinking about it," Clark said before the game. "I'll take anything I can right now."
The amount of time it takes to get that first hit varies, obviously. Using the Astros' opponent as an example, outfielder Michael Choice recorded his first hit in his second-career start this week with a dribbler toward the mound, while catcher Stephen Vogt required 28 at-bats, extending to last year, before finally getting that first hit -- a home run -- this season.
"As soon as that first one comes, hopefully the floodgates will open a little bit," Clark said.
Whenever it comes, Astros manager Bo Porter said he isn't too concerned with Clark's cold streak to start out. Clark's first priority is calling a good game, Porter said. Production at the plate is secondary.
"He's done a tremendous job of calling games, he's done a tremendous job of throwing the baseball," Porter said. "I tell all the catchers each and every time they go out to catch a game right before the game: I don't say get three hits. I don't say drive in four runs. I tell them to catch a winner. And as a catcher, that's your No. 1 job."
Jeff Kirshman is an associate reporter for MLB.com. This story was not subject to the approval of Major League Baseball or its clubs.