Clark making an impression in stint with Astros
Clark making an impression in stint with Astros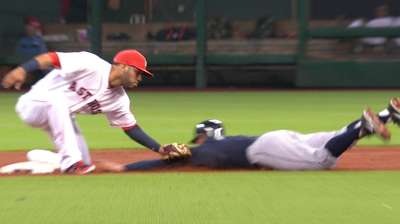 HOUSTON -- Astros reserve catcher Cody Clark hasn't been able to show what he can do with a bat since being called up Aug. 23. He has played in only four games and is 0-for-10, twice being robbed of hits by outstanding defensive plays by opposing shortstops.
After Friday's game Clark went into manager Bo Porter's office. "Are all the defenders that good here?" asked Clark.
"They put their best defenders at shortstop," Porter told him. "You probably want to find someplace else to hit it."
Clark played third base at Wichita State and was moved behind the plate after being drafted in the 11th round by the Texas Rangers in 2003.
"My speed determined I was going to catch," he laughed. "[Catching] kind of picked me. I told the Rangers I can play third. They said, 'No, you're going to catch.' "
After 10 years in the Minors, he signed as a free agent with the Astros in February because "it was the only offer I had."
Clark, who will turn 32 Sept. 14, has thrown out four of five runners attempting to steal since arriving in Houston.
"I've always had a pretty good reputation for being a catch-and-throw guy," he said. "Just trying to be quick and accurate. I don't know if there's a secret. I'm pretty accurate right now. Dallas [Keuchel] has been really quick to the plate. If the pitchers don't hold guys on, you don't have any chance. The pitchers here have done an excellent job of holding guys on here."
The speed of the baserunners is definitely a change from the Minor Leagues. "Everybody's fast up here," Clark said. "Everybody can play defense.
"It's so much fun [playing in the Majors]. I just love it. The travel is so much easier. It took me five years to get to Double-A. It was a struggle. Once I got to Double-A I thought I had made it. A lot of times along the way I had questioned whether it was for me or not."
Did Clark show enough defensively to get a good look with the Astros next year at Spring Training?
"He's not only done a great job throwing, he's done a great job calling the game," Porter said. "You talk to the pitchers he's been catching and they rave about his ability to call a game. His ability to block [the ball]."
"We'll see," Clark said. "I know they have some really good catchers in this organization."
Gene Duffey is a contributor to MLB.com. This story was not subject to the approval of Major League Baseball or its clubs.