After 11 years in Minors, Clark gets big league call
After 11 years in Minors, Clark gets big league call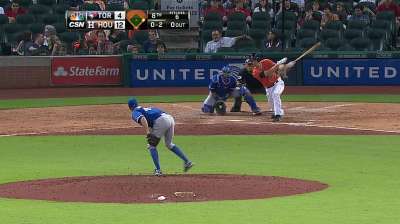 HOUSTON -- One of the first things Astros manager Bo Porter told Cody Clark upon his arrival at Minute Maid Park on Friday afternoon was to not get hurt. The Astros placed two catchers on the seven-day concussion disabled list this week, giving Clark the opportunity of a lifetime.
Clark, 31, made his Major League debut on Friday night after 11 seasons in the Minor Leagues with the Rangers, Braves, Royals and Astros. He struck out swinging on three pitches in the eighth inning of a 12-4 win against the Blue Jays and caught the ninth in his first big league action.
"It's one of those things that makes you feel good as an organization, to make you be able to reward a guy who has been in baseball for the amount of time he has been in baseball," Porter said. "You can see the excitement in his teammates' eyes when I told him he was going to hit for [Jason] Castro and catch the ninth inning. I'm pretty sure it will be special for him and his family for the rest of his life."
For outfielder Robbie Grossman, who played with Clark at Triple-A Oklahoma City, it was the best moment of the night.
"I don't think it gets better than that," he said. "You're in awe it's happening because you're so happy for him."
Clark, who signed with the Astros prior to this year, spent the majority of the season at Triple-A Oklahoma City (44 games), where he hit .217, but was recently shipped to Double-A Corpus Christi, where he appeared in two games.
"It's a dream come true, really," said Clark, who's one of the oldest players on the team. "Eleven years in the Minor Leagues, and to get the call [Thursday] and be told I was going up, there was a lot of emotion and just calling my wife and parents. It just meant so much for me to be able to tell them."
Clark was called in Corpus Christi manager Keith Bodie's office Thursday night and asked how many managers he had played for in his career. Bodie then told him he was privileged to be the first to tell him he's going to the big leagues.
"I broke down and said, 'Thank you,'" Clark said.
Clark called his wife, Jordan, and parents, Doug and Carol, in Conway, Ark., and they were able to drive to Minute Maid Park on Friday. They were there to support him during the many, many times he thought about giving up his dream of playing in the Majors.
"Everyone keeps tell me to soak it all in," Clark said. "I want to play ball, and it didn't matter to me if it was in the big leagues or not. I just want to play. If I'm playing, I want to be at the highest level I can be at, and this is a dream come true."
Brian McTaggart is a reporter for MLB.com and writes an MLBlog, Tag's Lines. Follow @brianmctaggart on Twitter. This story was not subject to the approval of Major League Baseball or its clubs.