Porter steals chance for a teachable moment
Porter steals chance for a teachable moment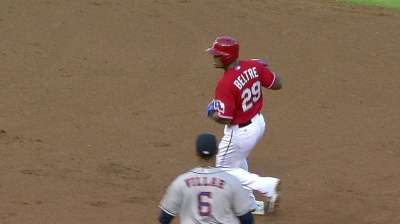 ARLINGTON -- The Astros had another teaching lesson during Monday's 16-5 blowout loss to the Rangers.
Texas scored its second run in the first inning on a double-steal with two outs. Shortstop Jonathan Villar had a play at second base to record the third out, but he didn't tag Adrian Beltre. It allowed Elvis Andrus to slide home safely.
"If you catch the ball and tag the guy, the inning is over," Porter said. "I think he got caught in between, 'Should I just throw the ball home, or should I just tag the guy?' The guy is right in front of your face. It's one of those things where if he catches the ball, and he tags him, obviously he hadn't made it home yet, the inning is over and the run doesn't count."
Porter took it upon himself to talk to Villar and the rest of the infielders, including both catchers, about the situation. The Astros have the youngest roster in the Majors with an average age of 25.8, and they have 14 rookies on their active roster.
"We talked about it from the standpoint of understanding the speed that is on the basepaths. If the out is there, you secure the out and come in and we hit. If you're that concerned, come straight forward, get the ball and throw it straight home, but don't be caught in-between.
"A very teachable moment. I don't think he'll do that if we were put in that situation again. I think he will handle it the proper way."
Master Tesfatsion is an associate reporter for MLB.com. This story was not subject to the approval of Major League Baseball or its clubs.