Memorable debut for Stassi includes two hits
Memorable debut for Stassi includes two hits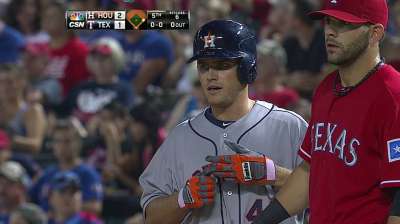 ARLINGTON -- It'll be tough for Max Stassi to forget his first Major League hit.
Stassi got the start as the designated hitter on Tuesday at Rangers Ballpark and collected his first career hit in the fifth inning off Jason Frasor. But Stassi then made a baserunning mistake that he'd never made before.
The rookie slid safely into second on a ground ball as Frasor fielded, then sailed the throw over Elvis Andrus' head covering the bag. But Stassi thought Andrus had made the catch to complete the force and stepped off the bag to start walking back to the dugout. Ian Kinsler alertly tagged Stassi from behind to record the second out of the inning.
"I slid in and lost track of the ball," Stassi said. "I thought [Andrus] was on second, and the ball went past him. That's totally on me, and it's something that'll never happen again in my career. It just so happened on my debut.
"It didn't feel too good, especially in a close ballgame."
The Astros were leading 2-1 at the time, but eventually lost, 4-2. The incident prompted a teaching moment for Stassi from Astros manager Bo Porter and third-base coach Dave Trembley.
"It's a lesson well learned," Porter said. "When you are a forceout, do not leave that base without knowing from the umpire that you are out."
Stassi reiterated that it would be the first and last time the incident occurs in his career, but the mental mistake didn't hamper Stassi in his next at-bat. He collected his second single in the seventh and became the 12th player in franchise history and the second this year to record two or more hits in his Major League debut. Robbie Grossman accomplished the feat on April 24 against the Mariners. Stassi finished 2-for-3, striking out in his first at-bat against former Astros pitcher Travis Blackley in the second inning.
"I was really excited to be out there," Stassi said. "After my first at-bat, I started to get settled in and slowed the game down a little bit.
"I was just taking it in. It's the only time it's going to happen in my career, my first night. I was just enjoying it and trying to make the most of it."
Stassi was called up earlier Tuesday from Double-A Corpus Christi when Carlos Corporan was placed on the 7-day concussion disabled list. Stassi will serve as backup to starting catcher Jason Castro
"It's great for him," Tuesday's starting pitcher Jarred Cosart said. "I got my first taste this year. I was able to get a win in my first outing. That's a little different for hitters. He's going to get his at-bats and have plenty opportunities, but to come up in the first game and after the first at-bat get the jitters out of the way. He put together two good at-bats off two tough pitchers. To get the first two out of the way is good, now he can probably relax and look forward."
Stassi and pitcher David Martinez both were still amazed to receive their first big league call-up on Tuesday.
"It was unexpected," Stassi said before the game. "I was just hanging out on an off-day at Sonic with a couple teammates in Double-A. Next thing I know, my phone is ringing and it's my manager, Keith Bodie, and he's telling me to pack my stuff and I'm heading to Arlington. It was a pretty exciting time."
Stassi was named the Texas League Player of the Month in July, hitting .333 with 11 home runs and 24 RBIs in 24 games for Corpus Christi. He has also been named Texas League Player of the Week twice this year. Stassi is slugging .529 this season with 17 home runs and 60 RBIs overall, and he credits his routine for his Minor League success this year.
Martinez was promoted to Triple-A Oklahoma City earlier this month. He has a combined 14-3 record with a 2.20 ERA in 28 appearances (20 starts). The product of the club's Venezuelan Academy, Martinez can give the Astros multiple innings out the bullpen. The Astros designated Wade LeBlanc for assignment as the corresponding move.
"I don't know what will happen with me, but I'm confident in myself," Martinez said of when he makes his Major League debut. "I'll just wait for the moment."
Master Tesfatsion is an associate reporter for MLB.com. This story was not subject to the approval of Major League Baseball or its clubs.