Hoes gets his first look at Rangers Ballpark
Hoes gets his first look at Rangers Ballpark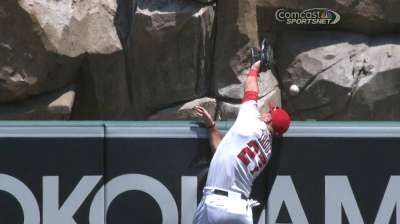 ARLINGTON -- Astros outfielder L.J. Hoes entered Monday night's game against the Rangers riding a career-high five-game hitting streak, as he started in right field for his first game at Rangers Ballpark.
"I'm anxious to see really how hot it gets out there," Hoes said. "I heard it's a great ballpark and a great place to play. I'm just anxious for the game. It's a big series coming up, hopefully we can get some wins and get back to Houston."
Hoes showed some rare power on Sunday with his first career home run in the first inning against Angels lefty Jason Vargas.
"Sometimes, you get lucky and run into a ball and hit a home run every now and then," Hoes said. "I got a good place to hit it, put a good swing on the ball. Anaheim is a good place to hit and the ball travels there."
Hoes was 3-for-4 on Sunday, his fourth multi-hit game in the last five contests. He entered Monday hitting .333 (20-60) in 16 games with Houston. Hoes credits hitting coach John Mallee for his recent success.
"Every once in a while, you get in a groove and feel good at the plate where it feels like they're throwing beach balls at the plate," Hoes said. "Right now, I feel comfortable. Me and Mallee have done a real good job of coming up with a plan for me, working on my swing and simplifying things to make it easier to hit."
Master Tesfatsion is an associate reporter for MLB.com. This story was not subject to the approval of Major League Baseball or its clubs.