Springer likely to finish out Triple-A season
Springer likely to finish out Triple-A season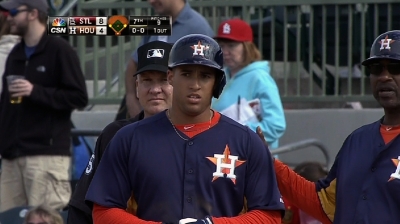 ANAHEIM -- It's the question Astros general manager Jeff Luhnow gets asked every day: When is top prospect George Springer coming up to the Major Leagues?
Luhnow said for the first time Friday that the outfielder would stay at Triple-A Oklahoma City for the rest of its season, which could include a trip to the playoffs. Whether Springer gets called to Houston afterward remains to be seen, but don't expect him in an Astros uniform anytime soon.
"The most important thing I want everybody to focus on is he's having a great year, he's a guy that unless something changes is going to be in our outfield next year," Luhnow said. "All this discussion about what day is he coming up is really not that relevant right now. What's relevant is a he's a guy we're excited about, he's having a tremendous year, we're going to let him finish his year at Oklahoma City and make a determination after that as far as how much time's left and whether or not is makes sense to bring him up.
"I see him as a guy who's going to come to Spring Training next year competing for our everyday center-fielder job, and I see him as a big part of our team next year. That's really the message I want our fans to focus on, not worry too much about the date he comes up. There's a lot of factors that go into it, and we'll make the best decision for the organization."
Springer, 23, has split time between Double-A Corpus Christi and Oklahoma City, hitting a combined .304 with a Minor League-leading 34 homers and 99 RBIs with 38 stolen bases entering Saturday. He's the first player in the Minors to hit 30 home runs and steal at least 30 bases since former Athletics farmhand Grant Desme in 2009.
"As a general manger, when the fans are asking when your players are coming up because they want to see them in the big leagues, that's a testament to our scouts and player-development people and Springer himself for doing what he's done this year," Luhnow said.
Luhnow plans to travel to Oklahoma City on Saturday to watch Springer play in person and talk with him, as well as the rest of the team.
"I may come back with a very different perspective than I have now," he said. "Right now, those guys are three games up in the Pacific Coast League division and playing well as a unit. It's a good thing we have going on there and I'd like it to continue."
Brian McTaggart is a reporter for MLB.com and writes an MLBlog, Tag's Lines. Follow @brianmctaggart on Twitter. This story was not subject to the approval of Major League Baseball or its clubs.