Cosart on historic start to young career
Cosart on historic start to young career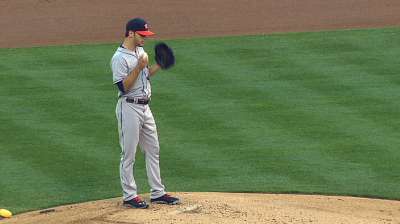 OAKLAND -- By throwing six scoreless innings in Wednesday's game against the A's and improving his ERA to 1.15 though his first six Major League starts, Astros rookie right-hander Jarred Cosart has put himself in some select company.
From 1962-2013, there have been 660 pitchers to have all of their first six games come in starts. Cosart's ERA is the sixth-lowest from among that group. The only players who have posted lower ERAs in that span are Steve Rogers (0.88), Zach Duke (0.92), Cisco Carlos (0.93), Tom Browning (0.95) and Jered Weaver (1.12).
"I try not to pay any attention to it," Cosart said. "Obviously, I'm on Twitter and all that stuff and I see it, but you can't put too much stock in it. I didn't come up to pitch six good games and get a big head and go back down to Triple-A. I want to be here for the long haul and help complete the turnaround. I think that's what our starters' goal is. We're pushing each other."
Cosart, one of five pitchers in the Astros' six-man rotation who's younger than 26 years old, has leaned heavily on the lone veteran in that group -- 34-year-old lefty Erik Bedard.
"He's paid his dues," Cosart said. "He's told me how to carry myself on and off the field, how to go about your business. He told me to throw my two-seam fastball more, and I threw it more [Wednesday]. It's little stuff I've heard before, but it's reinforced from people like him. He's constantly getting on me every day when we play catch and he lets me know little adjustments I can make.
"Obviously, he's not going to be here forever and hopefully we have him for a few more years, but hopefully I can stay in contact with him through the course of my career. He's helped me a lot."
Brian McTaggart is a reporter for MLB.com and writes an MLBlog, Tag's Lines. Follow @brianmctaggart on Twitter. This story was not subject to the approval of Major League Baseball or its clubs.