Altuve, Castro rest in finale due to nagging injuries
Altuve, Castro rest in finale due to nagging injuries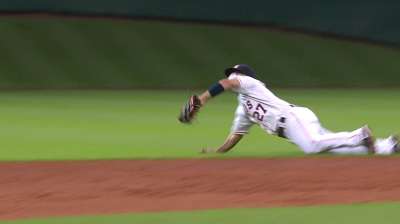 HOUSTON -- Three Astros starters were not in the starting lineup for Monday's series finale against the Rangers, with two of them dealing with nagging injuries.
Second baseman Jose Altuve was scratched with a sore left quad, and catcher Jason Castro missed his second straight game as he deals with a bruised hip. Outfielder L.J. Hoes received the day off after starting 11 straight games since being traded to the Astros on July 31.
It's only the second time all season that neither Castro nor Altuve were in the Houston order, with the other instance occurring against Toronto in a 2-1 loss on July 28.
Castro's sore hip stems back to a play at the plate in the eighth inning of Saturday's game, when the Rangers' Alex Rios slid into him, dislodging the ball from Castro's glove for the go-ahead run.
"His hip is a little sore from the slide and crash at the plate the other day," said Houston manager Bo Porter. "It was sore yesterday. I talked to him today. It is much better, but at the same time, having a sore hip and trying to get back there and catch for nine innings isn't ideal. We feel like if he gets another day, he'll be much better and ready to go."
It's the first time all season Castro has missed consecutive games.
In Altuve's case, the off-day has been coming for some time, as he's been noticeably slowed by his left quad on and off for two weeks.
In the Texas series alone, Altuve was caught trying to score from second on a single during Saturday's game and was thrown out at third trying to stretch out a double in Sunday's contest.
"It's mentally him thinking that he's 100 percent when technically he's not," Porter said. "Going to ask him is probably not even an option anymore, because in his mind, he wants to play every day. From a manager's standpoint, you appreciate that.
"At the same time, there has to be some kind of balance and being honest about your body and how you're feeling. It's evident that he's not 100 percent. It's affected him running the bases and defensively. We're going to have to take it out of his hands and protect him from himself. He'll take some days off and DH some, and we'll monitor it from there."
Porter said a disabled-list stint is not even being considered for Altuve.
Chris Abshire is an associate reporter for MLB.com. This story was not subject to the approval of Major League Baseball or its clubs.