Crowe hitting well in rehab, but return unknown
Crowe hitting well in rehab, but return unknown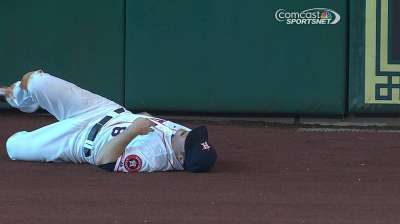 HOUSTON -- Between the Justin Maxwell trade, L.J. Hoes' arrival, Jimmy Paredes' yo-yo act from the Minors to the Majors and J.D. Martinez's shoulder injury, the Houston outfield has been in flux lately.
Trevor Crowe wouldn't mind shaking it up again, as he continues to pound the ball during his rehab assignment at Triple-A Oklahoma City.
Crowe sprained the AC joint in his right shoulder crashing into the wall against the Brewers on July 20, landing him on the 15-day disabled list.
He's missed a few more days than that, not even starting his Minor League rehab assignment until July 26.
"It was a tough injury from the standpoint that it's your throwing shoulder," said Astros manager Bo Porter. "That takes a little bit longer to heal, to do all the things you need to do as a baseball player. That shoulder is everything."
He's wasted no time getting back up to speed, hitting .388 with three RBIs, three steals and 11 runs scored during 13 games with the RedHawks.
So why is he still mired in the Minors, even as the Astros' lineup has been flooded with his fellow RedHawks over the past few weeks?
"We want to make sure his arm is built up to the point where he can play the field consistently," Porter said. "He suffered a pretty rough injury. From all reports, he is back playing, but you do want to make sure he can make all the necessary throws."
Crowe hit .200 with one home run, five RBIs and 10 runs scored over 34 games with the Astros during May and June.
Chris Abshire is an associate reporter for MLB.com. This story was not subject to the approval of Major League Baseball or its clubs.