Porter in touch with Hall of Famer Parcells
Porter in touch with Hall of Famer Parcells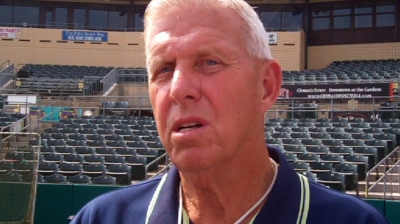 MINNEAPOLIS -- Astros manager Bo Porter exchanged a few text messages the last few days with close friend and two-time Super Bowl-winning football coach Bill Parcells, who was inducted into the Pro Football Hall of Fame on Saturday in Canton, Ohio.
"I'm pretty sure his phone was blowing up messages," Porter said. "We did exchange some text messages. It's a great honor, and it couldn't have happened to a better man. You look at not just the success he's had from a coaching standpoint, but the impact he's been able to have on the number of people in which he's been able to touch, which is a true testament to what it is he means to the sports world in general, not just football."
Porter, a former football player at the University of Iowa, and Parcells struck up a friendship a few years ago in Jupiter, Fla., when Parcells would visit former Cardinals manager Tony La Russa, a friend. The Cardinals and Marlins share a spring facility, and Porter soon befriended him, too.
While he did not have a chance to see Parcells' acceptance speech in its entirety, Porter plans to find some time to watch it soon.
Porter spent some time with Parcells prior to Spring Training and has an inspirational quote from the football coach inside the clubhouse at Minute Maid Park.
"Throughout the course of the year, I'll wake up at 7 o'clock in the morning, and there will be a text message from him with inspiration, motivation saying, 'Keep your head up. It's going to be all right, and you're doing the right thing' kind of stuff," Porter said.
Brian McTaggart is a reporter for MLB.com and writes an MLBlog, Tag's Lines. Follow @brianmctaggart on Twitter. This story was not subject to the approval of Major League Baseball or its clubs.