Pena fills leadoff role at familiar ballpark
Pena fills leadoff role at familiar ballpark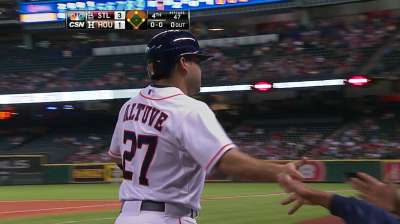 ST. PETERSBURG -- Carlos Pena hit first for Houston on Saturday at a ballpark where he had some of his best moments. Pena, who played five seasons with the Rays (2007-2010, 2012), is the all-time home run leader at Tropicana Field, where he has hit 86 jacks.
"I have so many great memories of this building," said Pena. "The best years of my career were here."
This was Pena's first time leading off for the Astros, and he was the designated hitter. Entering Saturday's game, he was batting .213 with eight home runs and an OBP of .327.
"One of the things I like about Bo [Porter] -- he's not afraid to try something new," Pena added. "The quantum leaps occur when you're not afraid to change."
Corey Long is a contributor to MLB.com This story was not subject to the approval of Major League Baseball or its clubs.