Cosart's callup could be first of many for Astros
Cosart's callup could be first of many for Astros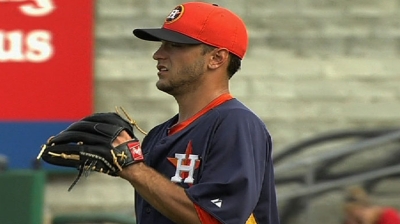 HOUSTON -- The next wave of young talent is finally on its way to the Astros.
Right-handed pitcher Jarred Cosart, a prized prospect from the Astros' improving Minor League system, got the call Wednesday night that he was headed for the Major Leagues in the first of what could be a wave of premier prospects hitting Houston this year.
The Astros announced following Wednesday's game Cosart -- their top-ranked pitching prospect and fourth-ranked overall -- would make his big league debut by starting Friday's game in Tampa Bay. The team optioned outfielder Jimmy Paredes to Triple-A Oklahoma City.
"I'm so excited and thankful for the opportunity," Cosart told MLB.com. "It's tough when you get to the Triple-A level. Everybody says don't think about when you're going up and just keep pitching, but it's really hard, and anybody can tell you that. Jordan [Lyles] was in that position and a lot of other guys have been, too. I was completely caught off-guard today.
"I figured with the off-days and whatnot there was no chance, so I was caught off-guard and shocked and overjoyed and everything."
Cosart, who grew up in the Houston area, was acquired by the Astros from the Phillies as one of four players in the Hunter Pence deal in 2011. Another player acquired in that deal -- first baseman Jonathan Singleton -- is Houston's top-ranked prospect and could reach the Majors this year, as well.
Outfielder George Springer, the team's first-round Draft pick in 2011, is off to a quick start at Triple-A after spending the first half of the season at Double-A Corpus Christi, where he hit 20 home runs. Springer is hitting .417 with seven homers and 17 RBIs as he makes a case to reach Houston this summer, too.
Cosart, 23, went 7-4 with a 3.29 ERA in 18 games (17 starts) for the RedHawks.
He charted pitches in the stands in Round Rock, Texas, on Wednesday night and was called on the carpet in the middle of the clubhouse afterward by Oklahoma City manager Tony DeFrancesco for wearing flip-flops, even though he wore sneakers. With Cosart's teammates around him, DeFrancesco told Cosart the real reason he summoned him: He was going to the Majors.
"The guys are amazing here and they were happy for me and it's been a fun ride here, but now it's time to show what I can do up there and prove to them I can run with this shot," he said.
Cosart then grabbed his phone and called his parents in League City, Texas, for a tear-filled phone call before getting some advice on big league life from outfielder Justin Maxwell, who plans to fly with Cosart to Tampa on Thursday morning. Maxwell was rehabbing from a concussion with Oklahoma City.
"It's a game I've been playing since I was 7 years old," Cosart said. "It's 60-feet, 6-inches [from home plate to the pitcher's mound]. I know it's my first ever start in the Major Leagues and there's going to be some adrenaline or nerves or whatever you call it, but I'm going to try to get that first pitch out of the way and go from there."
Cosart considers the Tampa area his home away from home, considering he spent a few Spring Trainings with the Phillies in nearby Clearwater, Fla. Some of his former Phillies teammates will be rehabbing in Clearwater while Cosart is taking the mound in a big league game.
He said he didn't think he'd have trouble sleeping Wednesday night, but Thursday could be a different story. Cosart said he didn't know whether he would remain in the Astros' rotation following the All-Star break or return to Oklahoma City.
With former starter Lucas Harrell moved to the bullpen and Bud Norris ruled out for Sunday's start against the Rays to stay fresh for a opportunity as an All-Star alternate, the Astros had to alter the rotation for the final three games of the first half. Dallas Keuchel and Eric Bedard will follow Cosart in the rotation on Saturday and Sunday, respectively, taking the Astros into the All-Star break.
"Hopefully I pitch well enough to make them keep me up there," he said. "It's all about consistency. I don't know much about the Rays, but I know [catcher Jason] Castro is great with scouting reports and [pitching coach Doug Brocail] and those guys will help me do what I need to do."
Brian McTaggart is a reporter for MLB.com and writes an MLBlog, Tag's Lines. Follow @brianmctaggart on Twitter. Chad Thornburg is an associate reporter for MLB.com. This story was not subject to the approval of Major League Baseball or its clubs.