Struggling Harrell sent to bullpen
Struggling Harrell sent to bullpen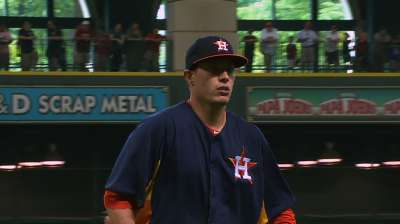 ARLINGTON -- No one in the Majors Leagues has made more starts than Lucas Harrell this year, but that's about to change. As he continues to pitch inconsistently, coming off a poor start against the Rangers Friday night, Harrell found out Sunday from manager Bo Porter that he is headed to the bullpen.
Harrell is 5-9 with a 5.04 ERA in 19 outings this season, and walks are a real problem: He has issued 53 free passes, the most in the American League.
And yet, when Harrell has been good this year, he has been very good. He was surprised when he heard he was being demoted.
"I was really shocked," Harrell said. "I didn't realize this until someone told me today, but I'm tied with Felix Hernandez for first place with 10 starts with one [earned] run or less in all of baseball. I think that's kind of tough to move a guy like that down to the bullpen, but they make the decisions, so it's their call.
"I feel like I've been pretty durable and I've given a lot, and that's why I was completely shocked and caught off guard by it."
Though Harrell's statistician was a little off, as the Mets' Matt Harvey has 11 such starts and the Nationals' Stephen Strasburg, the Pirates' Jeff Locke and the Dodgers' Clayton Kershaw each have 10 as well, the fact that Harrell is in such company speaks to how erratic his season has been. Despite matching the number of gems with some of the game's best, Harrell's ERA stands between 2.40 and 3.11 runs higher than all them, at 5.04.
Porter suggested Harrell's dropoff from his breakout season in 2012 was part of the club's motivation for the move.
Last year, Harrell compiled a 3.76 ERA and walked only 78 batters in 32 starts. He allowed two fewer home runs (13) in all of 2012 than he has halfway through 2013.
"This guy was one of our better pitchers last year," Porter said. "For whatever reason, there's been a lot of inconsistency and the hope is to be able to have more outings as far as not just pitching once every five days, but get more outings in a five-day period and hopefully we can get him straightened out much faster."
Even before finding out about the bullpen move, Harrell looked and sounded dejected Friday night after he walked six Rangers and allowed seven earned runs. Asked about his up-and-down season so far, he called it "a pretty bad year."
"I want to see him take it in the right manner and really get back to him being the type of pitcher he was last year," Porter said. "I said to him, 'Look, for whatever reason you're not pitching to your potential, so from an organizational standpoint, this is a decision that was made to try to get you back to back to being able to pitch to your potential.'"
To Porter, the difference between 2012 and '13 for Harrell is relatively simple: fastball command.
"He has an unbelievable sinker that a lot of times, I think he gets too fine with it," Porter said. "When he has the action that he has, he can allow the catcher to set more middle and allow the ball to the action he has. Whether it's the slider, whether it's the sinker, he has tremendous movement on the ball."
For now, Harrell can be a long man when the need arises, though Porter said he would feel comfortable using him in short situations.
The Astros have not decided on Harrell's replacement, who would pitch Friday at Tampa Bay. Harrell said Porter did not give him any indication as to what needs to happen for him to work his way back into the rotation, but Harrell said he'd work to make the best of his situation.
"You've got a new regime in here. ... It's beginning to be closer to September, so they're going to try their guys and see what happens," said Harrell, who last pitched out of the bullpen in 2011. "It's been a while, but the situation is what it is."
Dave Sessions is a contributor to MLB.com. This story was not subject to the approval of Major League Baseball or its clubs.