Astros try for continued improvement against Darvish
Astros try for continued improvement against Darvish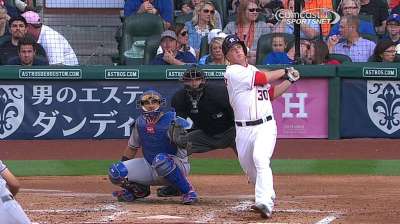 ARLINGTON -- The first time the Astros saw Rangers pitcher Yu Darvish this season, the Japanese phenom recorded 26 consecutive outs before Marwin Gonzalez spoiled Darvish's perfect game bid with a single up the middle.
The Astros had slightly better luck against Darvish the second time they saw him, collecting three hits and walking three times in his seven innings on May 11. Houston hitters swung and missed at only nine pitches compared to 26 in the near-perfect game, but Darvish still struck out eight and earned the victory.
Houston has hit just .078 against Darvish this season, his lowest opponents' batting average against any team this year. But catcher Jason Castro said the Astros can build off the improvement they showed against Darvish in their second meeting.
"[The first meeting] was pretty new and exciting for everyone," Castro said. "I think we might have been trying a little bit too hard, trying to force some stuff. We're comfortable now, I think, with the way he likes to pitch and the way he goes about attacking hitters. We kind of learned and made some adjustments based on that first time we saw him.
"You know you're going to get a lot of good pitches, a pretty good mix from him. What makes him successful is his ability to mix and not really fall into any patterns. He can literally throw any of his pitches at any time and that's what makes him tough."
Dave Sessions is a contributor to MLB.com. This story was not subject to the approval of Major League Baseball or its clubs.