Pain keeping Crowe from rehab assignment
Pain keeping Crowe from rehab assignment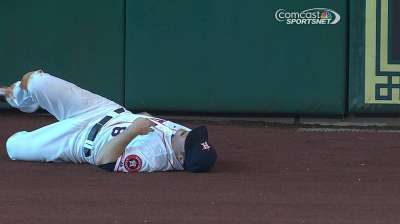 HOUSTON -- The Astros will not see Trevor Crowe's face around the locker room for a while.
The injured right fielder will head to Florida on Thursday to begin rehabbing the AC joint in his right shoulder he sprained when he crashed into the outfield wall against Milwaukee on June 20.
Crowe, who is on the 15-day disabled list, will report to the Astros' Spring Training facility in Kissimmee, but even he is not sure how long he will be down there.
"The [healing] process is coming along a little slowly, but I'm hoping to start throwing and doing baseball activities this week," Crowe said.
The 29-year-old said Wednesday that the shoulder no longer hurt doing everyday activities but still flared up whenever he tried to complete a baseball motion.
Houston manager Bo Porter said Crowe's timetable for returning to games would be based on how quickly the shoulder pain subsides.
"I think Trevor's been recovering well," he said. "We're going to get him down to Florida and let him get his strength back. The progression will be based on his tolerance and comfort with the pain and playing on it."
There is no set date for a rehab assignment, which Crowe said he expected to have after missing so many games.
"I would imagine, just because of the length of time, that I'll have an extensive Minor League assignment," he said. "I'm just going to listen to the trainers, smarter minds than I, and see what I have to do. I want to get back up here as quick as possible."
Crowe was hitting just .200 in 34 games this season before sustaining the injury.
Chris Abshire is an associate reporter for MLB.com. This story was not subject to the approval of Major League Baseball or its clubs.