Pena returns to Astros after death in family
Pena returns to Astros after death in family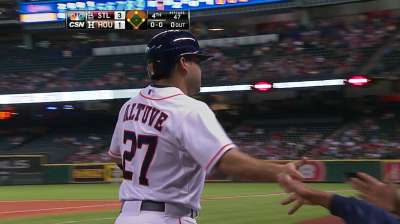 HOUSTON -- Astros first baseman Carlos Pena made it back for Tuesday's game, but only barely.
After missing two days because of a death in the family, Pena arrived to Minute Maid Park approximately two hours before first pitch and was unable to warm up with the team.
He was not in the starting lineup, but manager Bo Porter said Pena would be available off the bench despite the late arrival.
"I got a text from him, and he's on his way, trying to get here," Porter said just before the Astros took batting practice. "We want him back."
Without Pena, one of the team's best power bats, Houston continued a woeful offensive stretch by scoring only one run and seven hits combined in two losses.
Despite the poor outings, Porter said he told Pena not to rush anything.
"I actually told him to take his time," Porter said. "You can plan on being there for a certain number of days, but then you can get there and the family can be in a different condition. I told him to take care of his family. It's a very trying time for his wife and his family."
Pena has eight home runs and 25 RBIs to go along with a .221 average this season. Chris Carter took Pena's place at first base Monday and Tuesday, with Brett Wallace starting there Sunday.
Chris Abshire is an associate reporter for MLB.com. This story was not subject to the approval of Major League Baseball or its clubs.