Harrell sore one day after taking liner off shin
Harrell sore one day after taking liner off shin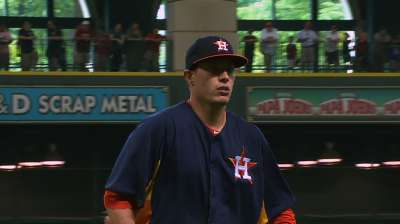 HOUSTON -- The Angels couldn't make much of an offensive dent against Lucas Harrell on Sunday, but they sure left one on his leg.
Harrell took a line drive off his left shin in the sixth inning, leaving a bone bruise that the right-hander was still feeling on Monday.
"It was just pretty tender when I woke up," Harrell said. "Not getting much treatment really, but I had the trainers look at it. Right now, we're just taping it up."
The righty said he doesn't expect to miss his next start, which would likely be against the Rangers on Friday. Astros manager Bo Porter echoed that sentiment before Monday's game against Tampa Bay.
"He came out and did all of his work today and obviously it'll be sore because he got squared up pretty good," Porter said. "I doubt it's anything to worry about, but he'll be monitored."
After getting drilled in the leg, Harrell completed two more innings of work. He lasted seven innings, allowing only one run and six hits but didn't factor in the decision of a 3-1 loss.
The start was the 10th this season in which he's allowed one run or fewer, tying Seattle's Felix Hernandez for the most in the American League.
Chris Abshire is an associate reporter for MLB.com. This story was not subject to the approval of Major League Baseball or its clubs.