Dominguez moving up to six-hole in Astros lineup
Dominguez moving up to six-hole in Astros lineup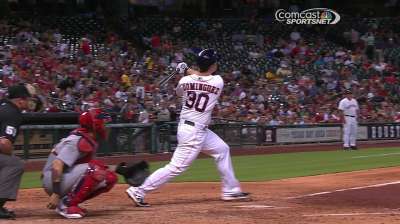 HOUSTON -- Just when Astros third baseman Matt Dominguez had settled in at the No. 8 spot in the order, he got a promotion.
Dominguez was slotted in the six-hole Monday for the second straight game, and manager Bo Porter said the spot could become a more permanent one for the run-producing right-handed hitter.
"The mindset [of moving him up] is that he's done a great job of hitting with men in scoring position and the fact that he leads the team in RBIs," Porter said. "It made sense to make the move now."
Dominguez has been the Astros penultimate bat in the lineup for 57 games, including 21 of Houston's 27 games in June. He's also hit seventh 18 times, but the consecutive days at the six spot are his first starts there since April 8.
The third baseman had just two hits in his past 29 at-bats, but he ripped several balls to deep in the outfield against the Angels over the weekend. Mike Trout stripped him of a potential go-ahead extra-base hit in the seventh inning of Friday's loss with a diving catch and Josh Hamilton crashed into the wall to rob Dominguez of a solo homer on Saturday.
"The last three or four games, has anyone hit the ball hard more than that guy?" Porter said. "He's done it consistently.
"That's why I continue to say this, batting average is the most overrated stat in baseball. I look at the quality of the at-bats, how hard you hit the ball and if you're hitting to where it's pitched. He's done that all year and been one of our better guys."
Entering Monday, Dominguez has hit .297 with runners in scoring position -- nearly 60 points higher than his overall average -- to account for 33 of his 44 RBIs.
Other than having a better chance to see more at-bats, Dominguez said not much will change for him at the dish.
"I'm just going to approach it the same, because I was hitting the ball hard," he said. "Once you hit the ball on the seams, stuff tends to start rolling for you. I'll still be trying to get a good pitch and drive it. Hopefully that'll be where guys can't catch it."
Chris Abshire is an associate reporter for MLB.com. This story was not subject to the approval of Major League Baseball or its clubs.