Astros place Maxwell on seven-day disabled list
Astros place Maxwell on seven-day disabled list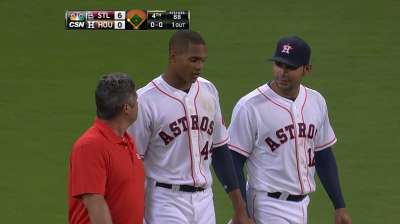 HOUSTON -- Astros outfielder Justin Maxwell was placed on the seven-day disabled list Sunday with concussion-related symptoms. To fill his spot on the roster, outfielder Jimmy Paredes has been recalled from Triple-A Oklahoma City.
Maxwell sustained a mild concussion in Tuesday's game against the Cardinals while making a diving attempt in right field. He has not started a game since then, appearing in Friday's game as a pinch-runner.
"He informed first-base coach Dave Clark that somewhere within the sequence where he dove back to the bag or got moving around and his adrenaline got flowing that he had a slight headache," Astros manager Bo Porter said.
That slight headache became more severe, and after being re-evaluated by team doctors, the decision was made to place him on the DL.
"When you start talking head injury and concussion, it's nothing to play with. And this is his third concussion," Porter said. "So from an organizational standpoint, we're doing the right thing by taking every necessary precaution."
Glenn Sattell is a contributor to MLB.com. This story was not subject to the approval of Major League Baseball or its clubs.