Astros legends gather for book signing Saturday
Astros legends gather for book signing Saturday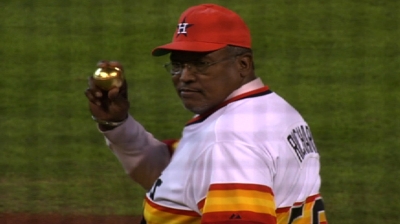 "Deep in the Heart," a pictorial book co-written by Astros broadcaster Bill Brown and historian Mike Acosta, has been on sale at Minute Maid Park since Opening Night.
But on Saturday, there will be an added incentive to purchase the 192-page look back at Astros history: a slew of Astros legends will be on hand to sign the books.
J.R. Richard, Bob Aspromonte, Art Howe and Enos Cabell, along with Brown and co-broadcaster Alan Ashby, will be on the main concourse behind the Insperity Club before the game against the Angels. They'll sign books from 2 p.m. CT until first pitch, slated for 3:10 p.m.
Additionally, the Astros are offering two free tickets to the Aug. 29 game vs. the Mariners for any fan purchasing a copy of "Deep in the Heart" during this special signing.
The book was released just a few months after the Astros concluded their season-long celebration of the franchise's 50th birthday in 2012. "Deep in the Heart' details the history of the Houston organization, beginning with the Colt .45s, who played at Colt Stadium from 1962-64 before the team moved to the Astrodome and were renamed the Astros.
The book, filled mostly with color photos and interviews with the players who were part of some of the most memorable moments in franchise history, costs $39.95.
Alyson Footer is a national correspondent for MLB.com. Follow her on Twitter @alysonfooter. This story was not subject to the approval of Major League Baseball or its clubs.