Wrigley a special place for Porter, who played for Cubs
Wrigley a special place for Porter, who played for Cubs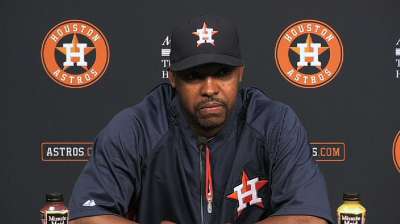 CHICAGO -- Friday's game against the Cubs was a homecoming for Astros manager Bo Porter, who was managing his first game at Wrigley Field.
"Wrigley will always be very special for me," said Porter, who was hired in September. "I got my first Major League hit here. It was the team I was drafted by and the team I made my Major League debut with. It'll always be a special place for me."
Porter was selected by Chicago in the 40th round of the 1993 First-Year Player Draft and played for the Cubs during the 1999 season. He collected his first hit against the Reds on Sept. 7.
Porter's time with the Cubs was brief (24 games), but it was long enough for him to develop an appreciation of Wrigley.
"One of the things I love about Chicago is the day games," he said. "You actually get to have a family life. You can sit down and have dinner with your family. That's one of the reasons we made this a family trip, because of the day games."
All three games of the series are day games, which changes the normal routine of the players.
"You have to be disciplined," Porter said. "That's what it comes down to. You know you have three day games. These guys are professionals. They'll get their rest."
John Jackson is a contributor to MLB.com. This story was not subject to the approval of Major League Baseball or its clubs.