Astros option Paredes to Triple-A Oklahoma City
Astros option Paredes to Triple-A Oklahoma City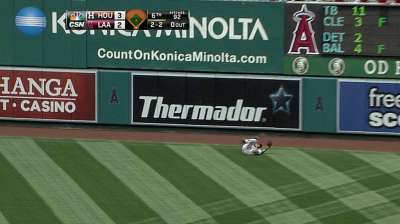 HOUSTON -- One player's promotion is usually another player's demotion, and Jimmy Paredes was on the unfortunate end of Justin Maxwell's return to the big league roster.
The Astros optioned Paredes down to Triple-A Oklahoma City after Monday's 4-2 loss to clear roster room, but he received some consolation from teammate and locker neighbor Carlos Pena.
"The main message was in life, and specifically in baseball, it's not about how well you do or the results," Pena said. "The most important thing is how much you can withstand and still persevere. Whomever can take the most punches will be the ones that stick around. Embrace the difficulties, I told him."
Paredes -- whose English skills are still spotty -- was an affable, if quiet, member of the Houston clubhouse. Many players, including Pena, said his presence will be missed.
"I like him a lot, because he's a kid with a good heart and a great work ethic," Pena said. "We all want him to succeed. I became close to him, because how could you not with the type of person he is. He's so friendly, so engaging. He's polite and respectful. He's got these incredible qualities about him. It was a privilege to get close to him."
The stint marked Paredes' third Major League stint, though perhaps his least successful despite starting 29 games. He hit .190 after being called up on May 6, nearly 50 points below his career average, and recorded just one hit in his final 21 at-bats.
Pena, now in his 13th season at the Major League level, said it's still tough to handle baseball's constant roster turnover.
"It never gets easy," Pena said. "You may become more aware of the situations so they may not surprise you. It's always painful to see a teammate go, to see someone's dreams put on hold. We all need to be sensitive to that. I appreciate Jimmy and want him to do well. It is a setback, but in reality it can be a stepping stone. It will equip him for a stronger comeback."
Chris Abshire is an associate reporter for MLB.com. This story was not subject to the approval of Major League Baseball or its clubs.