After signing, Thurman gets big league treatment
After signing, Thurman gets big league treatment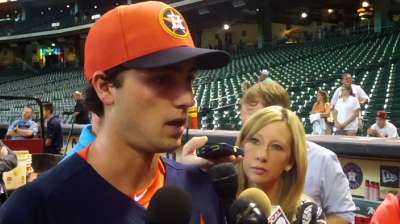 HOUSTON -- Astros second-round pick Andrew Thurman isn't a Major Leaguer yet, but his experience in Minute Maid Park during Monday's pregame mirrored the routine of one.
After all, Thurman, the No. 40 overall pick, has a pro contract now, inking a deal with Houston on Monday.
A right-handed starter out of UC-Irvine, Thurman signed for the full slot bonus assigned to his pick -- $1,397,200.
A nametag and his own space awaited him in the locker room and he warmed up with the team in the outfield. Thurman obviously won't see action in Minute Maid Park in the near future, but he called Monday's experience a "dream come true."
"The guys all treated me great and are a lot of fun," he said. "This is what you're dreaming about since you're a little kid, so it's overwhelming. I'm very thankful the Houston Astros gave me this opportunity. Hopefully I'll get to warm up in this place for real pretty quick."
Thurman will start his Minor League career with the Astros' short-season Class A Tri-City affiliate. Houston director of amateur scouting Mike Elias said there is no timetable for Thurman's progression or an expected Major League-ready date.
"There's no specific date in mind," Elias said. "Still, we wouldn't have selected him where we did if we didn't feel he was a fairly polished pitcher and someone who we felt could make a contribution up at the top level sooner rather than later."
Until then, Thurman said he's looking forward to Minor League life, though he knows it's not glamorous. His brother, Tim, was drafted by the Orioles as an infielder in 2002 and played rookie ball with the organization for two years.
"He's been giving me a bunch of pointers," Thurman said. "So I know it's long bus rides, living off of peanut-butter and jelly sandwiches. It sounds like the time of your life, putting that work in. No doubt Tim's excited for me."
The 21-year-old Thurman posted a 6-4 record for UC-Irvine in 2013 with a 3.23 ERA with 91 strikeouts in 100 1/3 innings. He earned All-Big West Conference first-team honors for the second straight season. Thurman (6-foot-3, 205 pounds) also starred in the Cape Cod League last summer, recording 49 strikeouts in 39 innings over seven starts.
Elias also announced the signings of left-hander Jordan Mills (28th round), right-hander Jorge Perez (30th round), first baseman Tyler White (33rd round) and left-hander J.D. Osborne (36th round) on Monday. Terms of their contracts were not disclosed. The Astros have now signed 22 of their 40 picks this season, including six of their top 10.
Brian McTaggart is a reporter for MLB.com and writes an MLBlog, Tag's Lines. Follow @brianmctaggart on Twitter. Chris Abshire is an associate reporter for MLB.com. This story was not subject to the approval of Major League Baseball or its clubs.