Astros honor firefighters as stories hit close to home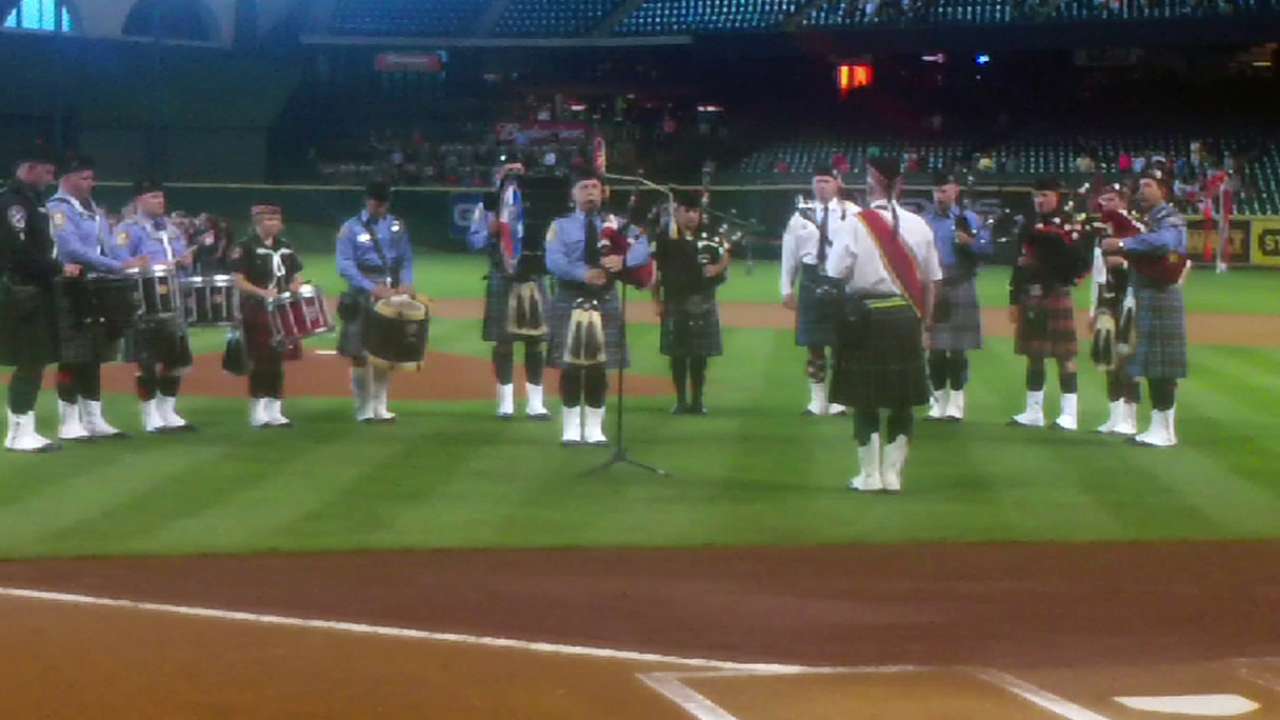 HOUSTON -- The Astros' current three-game homestand is about more than celebrating the squad's winning ways. In the current three-game series against the Orioles, the organization will honor the four Houston firefighters who lost their lives in last week's local fire.
The team is wearing special patches across their jerseys, flags in Minute Maid Park are at half-staff this week, and Tuesday night's game featured a pregame ceremony involving the Houston Fire Department Honor Guard.
Local and national firefighters can also receive free tickets to this week's home games for them and immediate family with their firefighter IDs.
But for many Astros, the sympathy and support hits far closer to home.
"My dad was a firefighter and a police officer," said Houston reliever Brad Peacock. "This means a lot to me. I know what he did every day and how he went out there to help people. Wearing this patch and everything else is the least we can do."
He's not the only player on the team with a similar background.
Astros catcher Jason Castro comes from a family of firefighters. His grandfather, father and brother have all been or continue to serve on the job.
"It hit close to home when I heard what happened," Castro said. "I'm so proud to wear this patch because I think those families need to see that communal solidarity. I can sympathize with them. Sometimes, that's the best way to show support."
Castro's father was a truck engineer and police captain for several decades and his brother just started his duty two years ago. Castro said he thought about entering the family business before baseball, and he remembers the grueling demands and concerns for firefighter families.
"I grew up with my dad being gone for days," he said. "He worked 24-hour shifts, and there was always a wonderment about what was going on when you heard a siren. There's always that fear. You obviously never want it to go beyond that fear."
Houston pitcher Bud Norris' grandfather served as a firefighter for more than 30 years in Southern California. Norris said he remembers how much commitment the job required and heard firsthand stories of dealing with deadly forest fires.
"You hear all the tales and just sit in awe a little," Norris said. "That's their lifestyle, they understand what they're signing up for. If you're a family member, you know that, too. They're the unsung heroes out there. Wearing this patch doesn't change the events, but it's our honor to do it."
Thirteen others were hospitalized in the blaze that the Houston Fire Department called the most deadly in its 118 years. The Houston Pipe and Drum Band also participated in the pregame ceremony.
Brian McTaggart is a reporter for MLB.com and writes an MLBlog, Tag's Lines. Follow @brianmctaggart on Twitter. Chris Abshire is an associate reporter for MLB.com. This story was not subject to the approval of Major League Baseball or its clubs.