Luhnow happy with Cosart's progress in Triple-A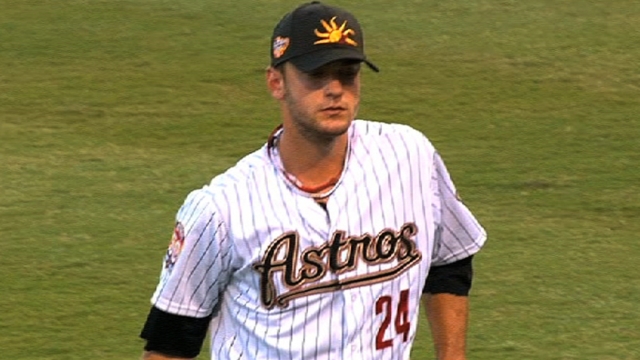 DENVER -- Astros general manager Jeff Luhnow said Thursday he believes top pitching prospect Jarred Cosart is close to being ready for the big leagues, but there's no need to for starting pitching considering how well Houston's starters have performed lately.
Cosart, who just turned 23, is 5-2 with a 2.65 ERA in 54 1/3 innings for Triple-A Oklahoma City, with 57 strikeouts and 29 walks.
"Jarred Cosart is a starting pitcher in our organization, and we don't have a spot in our starting rotation," Luhnow said. "Will that change later on this summer? Maybe. Is Jarred ready to be in the big league rotation right now? I don't know the answer to that. I think he's close. There are some things we want him to improve on.
"He is improving and working on it, and the pitching coaches are working with him. He's demonstrated so far this year the ability to succeed at the Triple-A level, which is great. As we've seen numerous times, success in the Minors doesn't always translate to success in the big leagues. There's no real rush, and we want him to be comfortable and make sure he's in the position he has the highest chances of succeeding."
Luhnow, who didn't rule out seeing Cosart at some point this year, was asked if the Astros were taking his arbitration clock into consideration.
"Our primary consideration is bringing him up when his development is done in the Minor Leagues and his development can be continued most effectively at the big league level," he said. "We don't feel he's there yet. It's not an issue of clocks, because the reality is a lot of players -- even when they come up for the first time -- they may not stick and will go back and forth. We're not trying to be too smart about it. When he's ready, we'll know, and if there's an opportunity, he'll come up."
Brian McTaggart is a reporter for MLB.com and writes an MLBlog, Tag's Lines. Follow @brianmctaggart on Twitter. This story was not subject to the approval of Major League Baseball or its clubs.