Barnes ready to answer call of full-time duty
Astros giving outfielder chance to show his stuff until Maxwell returns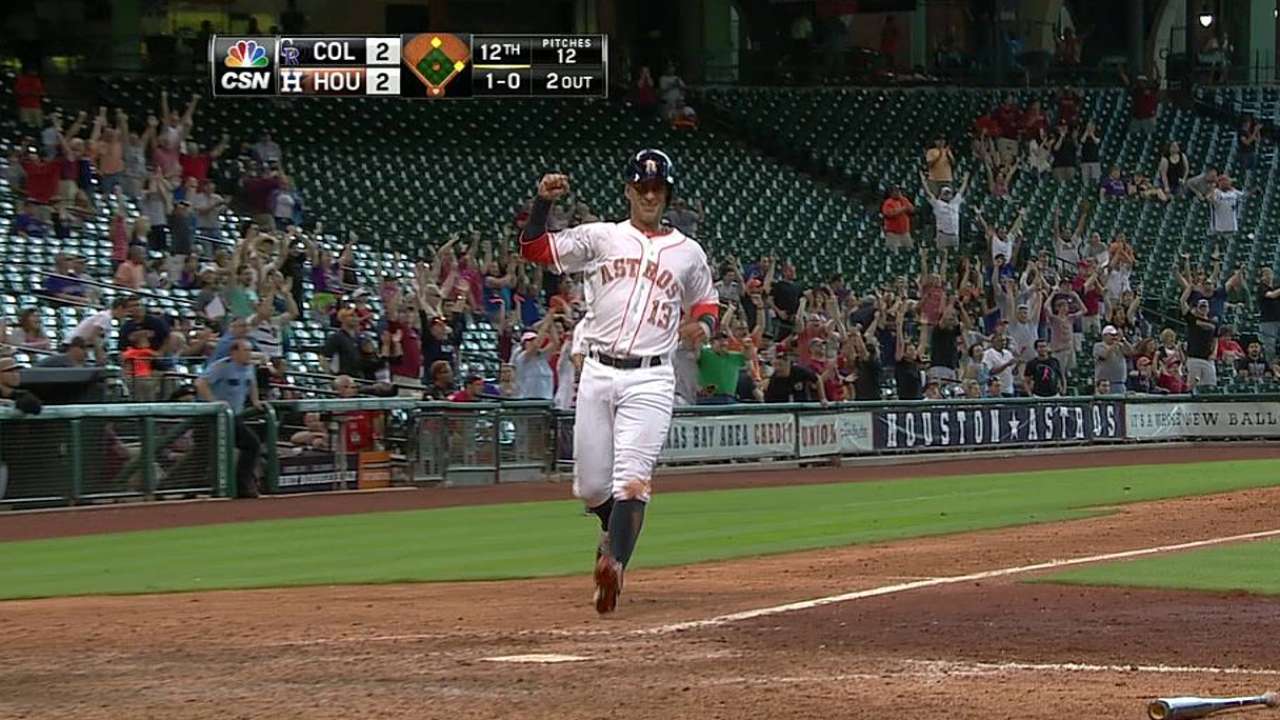 HOUSTON -- With the Astros having sent Robbie Grossman back to Triple-A on Monday, rookie outfielder Brandon Barnes stands to get more playing time in center field. He'll have a chance to show what he can do on a full-time basis before Justin Maxwell returns from his fractured hand next month.
Barnes, who won Monday's game against the Rockies with a walk-off hit in the 12th inning, had started 18 games entering Tuesday, mostly against left-handed starters. He was hitting .258 against right-handers and .382 against left-handers, and .323 overall, which ranked second among rookies with at least 60 plate appearances.
"The opportunity is great and I'm very appreciative," Barnes said. "I'm still going to go about the job the same way and still work hard."
Barnes has shown a knack for coming up with big plays in limited playing time, making a game-winning catch at the wall two weeks ago in the ninth inning in Detroit, and throwing out a runner at the plate in Pittsburgh a few days later. His walk-off hit on Monday was the first of his career.
"There are several questions I have from a managerial standpoint and several questions we as an organization want to get answers to," manager Bo Porter said. "Brandon Barnes is another one of those questions. Can he play every day between now and the time Justin Maxwell comes back? We're going to find out whether or not he's able to do that. I'm going to run him out there against righties and lefties, and give him an opportunity to answer those questions."
The biggest question is whether Barnes can handle right-handed pitching on a consistent basis.
"He's never been given that opportunity," Porter said. "I've been open and honest with him about communicating as it relates to that. I told him to stay ready, because you never know when an opportunity is going to present itself, and we find out we need an extra pitcher, and here it is."
Brian McTaggart is a reporter for MLB.com and writes an MLBlog, Tag's Lines. Follow @brianmctaggart on Twitter. This story was not subject to the approval of Major League Baseball or its clubs.